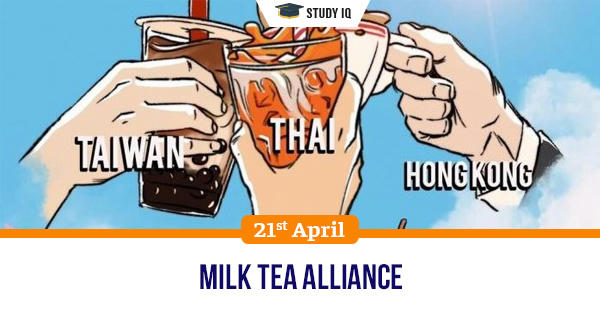 Milk Tea Alliance
Date: 21 April 2020
Tags: Miscellaneous
Issue
A popular Thai actor and his friend were mocked by Chinese social media users for their views against the Chinese government. This led to a social media war between Chinese and their Thai counterparts.
Details
The online battle started when Sukaram, a popular Thai actor's friend was accused of retweeting and sharing a Thai Twitter post that questioned whether coronavirus had emerged in a laboratory in Wuhan.

Chinese social media users, furious at her purported endorsement of this claim, began searching through her social media profiles and claimed that Sukaram had once suggested on an Instagram post from 2017 that Taiwan is not a part of China.

Beijing has consistently rejected Taiwan's independence. Pro-China social media users then turned their ire towards Bright, accusing him of once liking a social media post that said Hong Kong was an independent nation, another stance that the Beijing government has rejected.

The two Thai celebrities found support from pro-democracy activists and politicians and other social media users who used the incident to further reject China's nationalistic war in the region.

The 'Milk Tea Alliance' is an informal term coined by social media users because in the region, tea is consumed in many nations with milk, with the exception of China. Memes were formed showing flags of the countries in the "Milk Tea Alliance" with China as a lone outsider.

A barrage of memes and posts ridiculed Chinese social media users for everything from their pro-Communist Party ideology to the spread of Coronavirus.

Failed attempts by Chinese social media users to mass report tweets, posts and memes that they found critical of China were also soundly mocked on social media platforms.