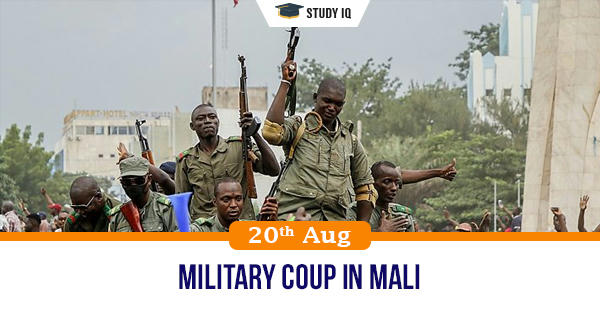 Military coup in Mali
Date: 20 August 2020
Tags: Miscellaneous
Issue
The military in Mali arrested the country's president and prime minister in a coup staged after weeks of destabilizing protests over a disputed election, government corruption and a violent Islamist insurgency.
Background
President Ibrahim Boubacar Keïta and his prime minister, Boubou Cissé, were detained along with other government officials. Around midnight, the president announced on state TV that he was resigning.
Details
The effects of the turmoil could spill beyond the borders of Mali, a country whose strategic location has geopolitical implications for West Africa, the Sahel, the broader Arab world, the European Union and the United States.

France has remained deeply involved in the affairs of Mali, its former colony, decades after the country gained independence.

The United States, too, has military advisers in Mali, and U.S. officials have a keen interest in a stable Malian government whose interests align with the West.

After a previous military coup in 2012, Islamist rebels, some with ties to al Qaeda, took advantage of the disarray to seize control of large areas of the country's north, including the ancient city of Timbuktu.

Under their brutal rule, Malians in those areas under jihadist control were forced to follow a strict religious code or risk severe punishment. Women were forced into marriage, and historical sites were demolished.

The rebels lost control of their territories after French forces intervened to help the Malian military drive them out.

But armed groups continue to terrorize civilians in the countryside, and the violence has metastasized across borders into the neighbouring countries of Burkina Faso and Niger.

In the years following its independence from France in 1960, Mali was viewed as having achieved a good track record in democratic government.

But Mali, once cited as a democratic role model in the region, has lurched from one crisis to another since the 2012 coup that overthrew President Amadou Touré a month before elections were to be held.