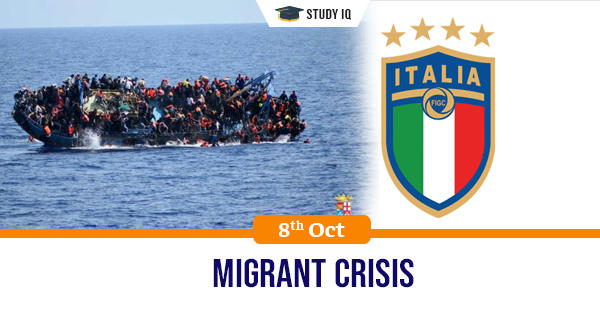 Migrant crisis
Date: 08 October 2019
Tags: Miscellaneous
Issue
At least 13 people died when an overloaded migrant boat capsized near the island of Lampedusa near Italy.
Background
Large number of people are fleeing Africa and west Asia towards Europe to escape wars and persecution in their home land. They are forced to flee towards Europe in unsecured boats which are susceptible to drowning.
Details
The European migrant crisis also known as the refugee crisis, is a period beginning in 2015 characterised by high numbers of people arriving in the European Union (EU) from across the Mediterranean Sea or overland through Southeast Europe following Turkey's migrant crisis. It is part of a pattern of increased immigration to Europe from other continents.
Immigrants from outside Europe include asylum seekers and economic migrants.
Reasons for migration
Refugees as Weapons", or "Weapon of Mass Migration" is a term used for mass exodus of refugees from a state to a hostile state as a "weapon" against an enemy.
In June 2015 the UN refugee agency reported that wars and persecutions are the main reasons behind the refugee crises all over the world.
Discrimination and inequality can also lead many individuals and families to move away from their homelands to other countries or regions.
People displaced by the effects of climate change have often been termed "climate refugees" or "climate change refugees.
People are forced to migrate due to lack of economic security in their home country.
People prosecuted for their political activities are also forced to abandon their home land and move towards another country to seek political asylum.