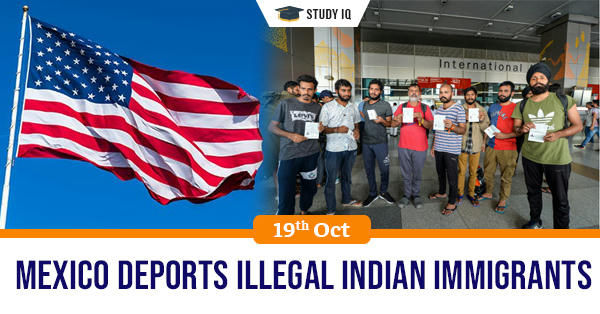 Mexico deports illegal Indian migrants
Date: 19 October 2019
Tags: Miscellaneous
Issue
More than 300 Indians were deported back by Mexican immigration authorities for illegally entering the country to sneak into the United States.
Background
Large number of people, especially from 3rd world countries try to enter into the US illegally through porous borders of Mexico. Eventhough it is risky and tiring, immigrants undertake it, hoping for a secured future in the US.
Details
The journey for the majority of the deportees, who are from Punjab and Haryana, started from Ecuador and ended in Mexico via Colombia, Panama, Costa Rica, Nicaragua, Honduras and Guatemala, which is the standard route followed by the immigrants to enter into the US illegally.

Citing rampant migrational trends, US President Donald Trump had threatened tariffs on all Mexican imports if the country did not put a check on people entering America through Mexico's borders.

Mexico had agreed to boost security on the border and expand its policy of taking back migrants.
Reasons for migration
Migration is commonly practised as a strategy for making a living and is related to the struggle for a better life.

Vulnerabilities caused by environmental disasters can be avoided by moving.

Remittances can improve people's everyday life and health.

Education can also be reason for migrating.

Political and social causes like asylum,can also force people to migrate to new places.
Drawbacks of migration
Migrants can have problems accessing health care, and also experience much danger at border crossings.

Transnational families can suffer emotionally as well as physically due to separation.

Attacks from natives for entering into their country and encroaching upon their jobs.

Racial threats.

Increasing crime and terrorist activities.