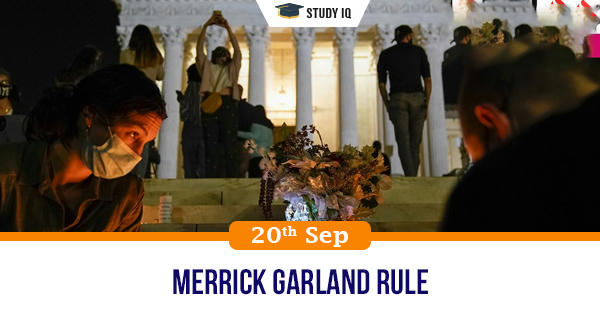 Merrick Garland rule
Date: 20 September 2020
Tags: Miscellaneous
Issue
The Republican party said it would move to fill vacant seat of Ruth Bader Ginsburg in the court, despite less than two months to go before the November 3 presidential election.
Background
The Democrats are accusing Republicans of backtracking from the position they took in 2016, when judge Merrick Garland, an appointee of President Barack Obama, did not receive a vote in the Senate because the vacancy had arisen in the final year of Obama's presidency.
Details
Unlike in India where judges appoint judges under the Collegium system, appointees to the 9-judge US Supreme Court are elected directly by politicians.

The White House nominates judges, and the US Senate — the upper house of the US Congress — confirms them. Currently, the Republican party controls both the Senate and the presidency.

Also, in the US, Supreme Court justices can serve for life, making the bench's liberal-conservative divide highly consequential for decades.

The court's oldest member in history, Justice Oliver Wendell Holmes, Jr., retired in 1932 at age 90 after serving 30 years. Justice Ginsburg was 87, and was on the bench for 27 years.

Despite furious complaints by Democratic leaders, Garland, then (and still) the chief justice of the D.C. Circuit Court of Appeals, became the first nominee in over a hundred years to be denied a hearing by the Senate, and was sidestepped entirely after Republicans won the 2016 race.

Republicans have defended their new position, saying this time, their party controls both the White House and Senate.