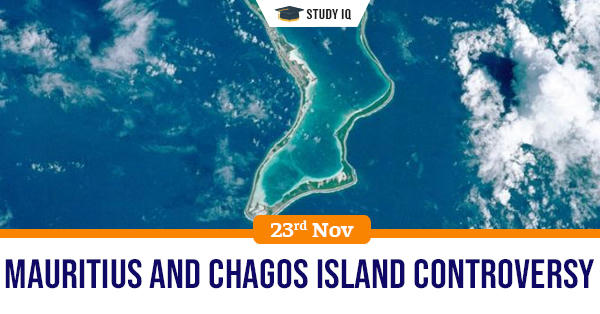 Mauritius and Chagos island controversy
Date: 23 November 2019
Tags: Miscellaneous
Issue
Mauritius has accused the United Kingdom an 'illegal colonial occupier' after it failed to meet a UN deadline to return control of an overseas territory to the island nation.
Background
Britain was given six months to return the Chagos Islands after the UN General Assembly voted to condemn its continued occupation of the Indian Ocean territory. After the deadline passed, Mauritian Prime Minister Pravind Jugnauth said the UK was now an illegal colonial occupier.
Details
Mauritius, a former British colony, claims it was forced to trade the Chagos Islands in exchange for independence.

When Mauritius was still a colony, Britain purchased the islands for 3 million pounds in 1965. This archipelago is known as British Indian Ocean Territory.

UK foreign officials say that the territory will remain in British hands until it is no longer needed for defence purposes.
Chagos Islands
The Chagos Archipelago or Chagos Islands are a group of seven atolls comprising more than 60 individual tropical islands in the Indian Ocean about 500 kilometres south of the Maldives archipelago.

the United Kingdom had purchased the island from Mauritius in 1965 and gave an island to the United States to build a military base on Diego Garcia, the largest of the Chagos Islands.
Mauritius
Mauritius officially the Republic of Mauritius, is an island nation in the Indian Ocean about 2,000 kilometres (1,200 mi) off the southeast coast of the African continent.

The country includes the islands of Mauritius, Rodrigues, Agaléga and St. Brandon.

The islands of Mauritius and Rodrigues form part of the Mascarene Islands, along with nearby Réunion, a French overseas department.

The capital and largest city Port Louis is located on the main island of Mauritius.

Prime Minister: Pravind Jugnauth

President: Barlen Vyapoory

Currency: Mauritian Rupee
Location