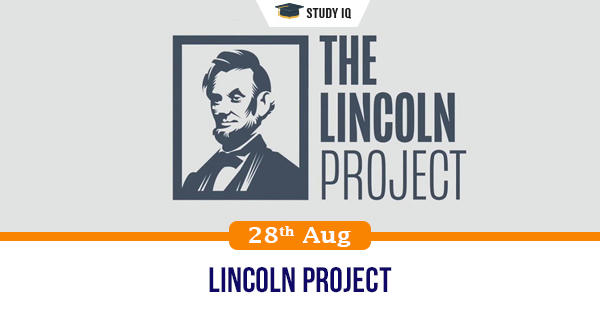 Lincoln project
Date: 28 August 2020
Tags: Miscellaneous
Issue
As the US presidential election nears, an anti-Trump group formed by former Republican strategists, known as Lincoln project, is making its presence felt.
Background
The group caught public attention early in May when its video, 'Mourning in America', went viral. The minute-long video is a critique of Trump's governance over spiralling Covid-19 deaths and high unemployment.
Details
The Lincoln Project was started on December 17 last year, with four of its founders announcing the group's launch in a New York Times opinion piece.

The Projects openly supports Democratic presidential nominee Joe Biden, and aims to convince enough conservatives and independents in swing states to ensure that Trump loses the Electoral College.

Political analysts believe that the group's principal aim is to hand back control of the Republican Party to more moderate figures.

The Lincoln Project's creators have all played influential roles in the Republican Party, and include conservatives who have been a part of the "Never Trump" movement.

The group has not only lambasted Trump's performance as President, but has gone on to mock his physical and mental fitness, and targeted his family members such as daughter Ivanka Trump and son-in-law Jared Kushner– both highly influential members of the Trump administration.

The group's founders have fended off criticism that their videos are too aggressive, insisting that they intend to respond to Trump in what they believe are his own methods.

While videos made by the group are highly circulated among Trump's detractors, experts are divided on whether the content could have a meaningful impact on the presidential election.