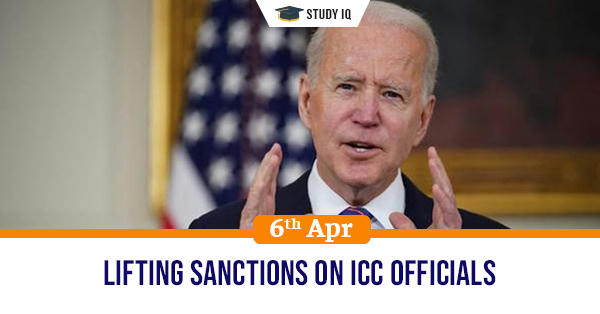 Lifting sanctions on ICC officials
Date: 06 April 2021
Tags: Miscellaneous
Issue
The Biden administration has lifted the sanctions and visa ban on officials of the International Criminal Court.
Background
Former US administration under President Trump had sanctioned several ICC officials as they had demanded investigation into alleged war crimes by US and its allies.
Details
The US has adopted a positive approach towards ICC even though it is not a member. It had voted in favour of prosecuting Libyan officials and also gave support in transferring suspects from West Africa to ICC trial.
Reasons for sanctions
The chief prosecutor of ICC has asked for a formal probe into alleged atrocities committed by US soldiers during the Afghanistan war.

There was a similar effort by ICC to investigate war crimes in Palestinian territories by Israeli defence forces.

The Trump administration imposed strict visa ban and travel sanction on the officials that is usually done for terror groups and human rights violators.
International Criminal Court (ICC)
ICC is a permanent judicial body established in 1998 at The Hague in Netherlands under the Rome statute. It began functioning in 2002.

The court was established as a last measure to punish offences that would not be punished otherwise. It has jurisdiction over genocide, crimes against humanity, war crimes, and the crime of aggression.

About 123 states are party to the Rome statute and note authority of ICC. Excluded nations are US, China, Russia and India.

ICC is not a part of UN unlike International Court of Justice (ICJ). It is governed by a separate agreement.

While ICJ mainly handles disputes between nations, ICC prosecutes individuals or member states for offences committed against humanity.