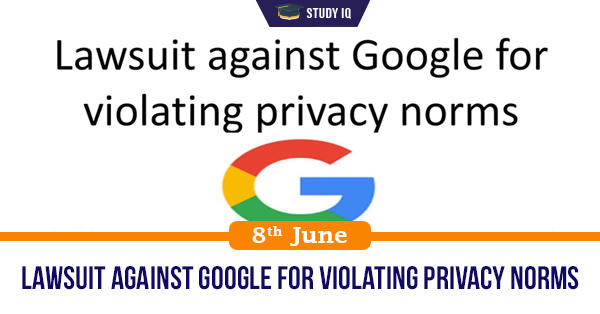 Lawsuit against Google for violating privacy norms
Date: 08 June 2020
Tags: Miscellaneous
Issue
Google was sued in a proposed class action suit in the US. The lawsuit alleges that the company tracks people even when they are browsing the internet using the "private mode".
Background
The class action suit demands $5 billion from Google's parent firm Alphabet for violating the Federal Wiretap law and the invasion of privacy Act.
Details
Last month, the company was sued for violated user privacy by tracking the user location even when it had been turned off.

The lawsuit, which has been filed on behalf of all those Google subscribers whose internet was tracked from June 1 , 2016 onwards, claims that Google tracks and collects consumer browsing history and other web browsing activity data "no matter what" safeguards consumers may use.

It further says that Google accomplished this using means such as Google Analytics, Google Ad Manager and other applications and website plug-ins on mobile devices and websites.

When an internet user visits a webpage or opens an app that uses such services, Google receives detailed, personal information such as the user's IP address, what the user is viewing, what the user last viewed, and details about the user's hardware.

The communications intercepted by Google include "contents" of electronic communications in the form of detailed URL requests, webpage browsing histories and search queries made by plaintiffs, it says.

The interception also enables Google to know about who an individual's friends are, what their hobbies are, what a person may like to eat, watch and shop etc.

The complainers have charged Google with giving users the false impression that they can prevent Google from tracking their browsing history and collecting their personal data online.

The Federal Wiretap Act prohibits the intentional interception of the contents of any wire, oral or electronic communication through the use of a safe device.

Google's actions in intercepting and tracking user communications while they were browsing the internet using a browser while in "private browsing mode" was intentional.