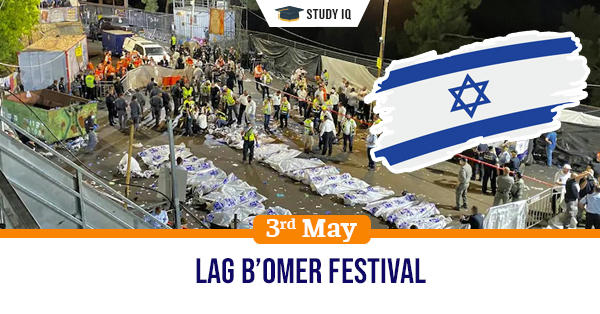 Lag B'Omer festival
Date: 03 May 2021
Tags: Miscellaneous
Issue
About 45 people were killed in a stampede that took place during the annual Lag B'Omer festival in Israel.
Background
The festival is attended annually by Jews especially those belonging to the ultra-orthodox sections.
Details
The incident is already termed as one of the biggest civilian disasters of the country and is likely to be investigated.

Israeli authorities had warned against large congregation of devotees so as to prevent spread of Covid-19 infections.

There is also belief that only a quarter of the total assembled people of 100,000 could be accommodated in the location.
Lag B'Omer festival
The annual Jewish festival of Lag B'Omer is celebrated during the Hebrew month of Iyar. It is celebrated on the 33rd day of Omer.

It is the only day on which celebrations are permitted during the 49 days between Passover and Shavuot.

Jewish people usually schedule their celebrations such as marriages and also bring young boys for their first haircut during this day.

Ultra-Jewish people make an annual pilgrimage to the shrine of Rabbi Shimon Bar Yochai at the base of Mount Meron.

Rabbi Shimon is considered the greatest Jewish sage who authored the book called 'Zohar'. The book is the main work of Jewish mysticism.

The rabbi is celebrated as a mystic and sage and revered across the country. It is believed that he passed away on this day.

To mark this day, bonfires are lit that symbolises the knowledge shared by the rabbi with his followers.