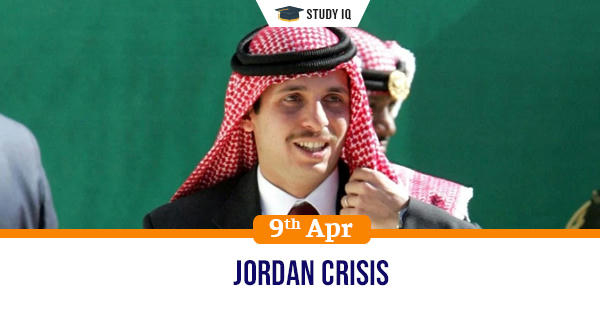 Jordan crisis
Date: 09 April 2021
Tags: Miscellaneous
Issue
Jordan's former crown prince Hamzah bin Al Hussein has been placed under house arrest by King Abdullah.
Background
The crown prince has been accused of attending a meeting of tribal leaders where the king was criticised openly, which is a serious charge.
Details
Jordanian authorities have said that a coup like situation arose when the incident took place. They have blamed foreign sources of orchestrating the move.

The issue is significant because Jordan is one of the most stable countries in the Arab world. Benefit of an unstable Jordan can be acceptable to some.
Importance of Jordan's stability
West and Gulf allies know that Jordan is very important for them to ensure that their political objectives in the region are realised.

The intelligence provided by Jordan is very critical to fight terrorism in the West Asia that includes some of the unstable regimes such as Syria, Palestine and Iraq.

It hosts large amount of refugees from Palestine, Syria and Iraq. For any peace deal to happen between countries in the region Jordan is a critical part.
Jordan's relations
Jordan has good relations with regional powers such as UAE and Saudi Arabia. It also maintains a cordial working relationship with USA.

Jordan was one of the first Arab countries to establish diplomatic ties with Israel and also acted as its interlocutor.

The ties have however gone down after Jordan decided not to agree to Saudi suggestions regarding backing Syrian rebels.

It has also maintained good ties with Qatar and Turkey, the two countries that do not enjoy good relationship with Saudi and UAE.