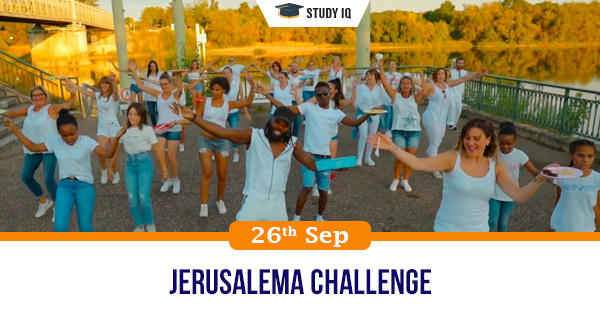 Jerusalema challenge
Date: 26 September 2020
Tags: Miscellaneous
Issue
An internet rage during the Covid-19 lockdown has been the #Jerusalemachallenge, with people from across countries uploading videos dancing to Jerusalema song.
Background
The song by Kgaogelo Moagi, better known as DJ Master KG, featuring woman vocalist Nocembo Zikode, was released in October 2019 and became an instant hit. This was followed by a video release in December 2019.
Details
The dance challenge took off in February 2020, as Covid-19 caused lockdowns in African countries like in most parts of the world.

It was a group of six friends – four men and two women – in Angola who made a video of themselves dancing to the foot-tapping number, while taking bites of food from plates in one hand.

This was soon dubbed the #Jerusalemachallenge or #Jerusalemadancechallenge after similar videos surfaced from parts of Europe, North America and South America.

The song, in IsiZulu, one of South Africa's 11 national languages, is a prayer to God to take the singer to the holy city of Jerusalem.

With Jerusalema, Master KG became the first African artist to top the global charts on Shazam, the American music-identification App.

The gospel-influenced song has seen health workers, construction workers, nuns and priests in Italy, police officers in uniforms and flash mobs in different parts of the world participate in the dance challenge, wearing masks and maintaining social distancing.