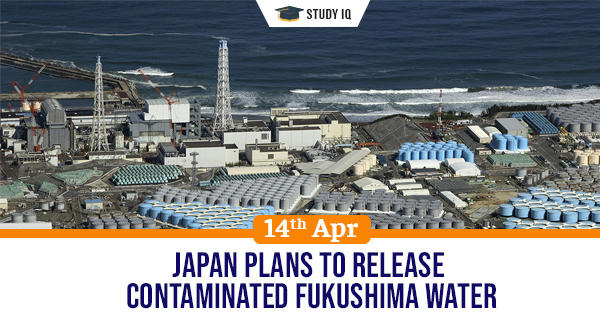 Japan plans to release contaminated Fukushima water
Date: 14 April 2021
Tags: Miscellaneous
Issue
Japanese government has decided to release contaminated water from the Fukushima Nuclear power plant back to the sea in a controlled manner.
Background
The Fukushima plant has been non-operational since the Tsunami that crippled the power plant. The radioactive water has since been trapped without being released.
Details
The plant will start pumping water after two years after a delicate treatment process that is tiresome and will take decades to complete.

The cooling and electricity plant were left destroyed by the Tsunami. The operator was struggling to handles such large amounts of contaminated water.

The company is making use of water to cool the heated fuel rods that were melted in the explosion.
Water handling
The water becomes contaminated as it comes into contact with the nuclear fuel. It later leaks and gets stored in underground tunnels and basements.

The groundwater flowing into the plant becomes contaminant after it comes in contact with the radioactive water. This water is pumped out and stored.
Filtering process
The company will filter water to remove isotopes and only tritium will be left. It will then be diluted to bring it below regulated limit before pumping it into sea.

Tritium containing water is released by all nuclear plants around the world. It is considered to be harmless as it does not emit enough energy to harm humans.
Public response
Environmental groups have urged to build more tanks to store water instead of releasing into the sea. Fishing communities have been against the move.

South Korea and China have also expressed concern citing impact on the safety of their people and surrounding environment.