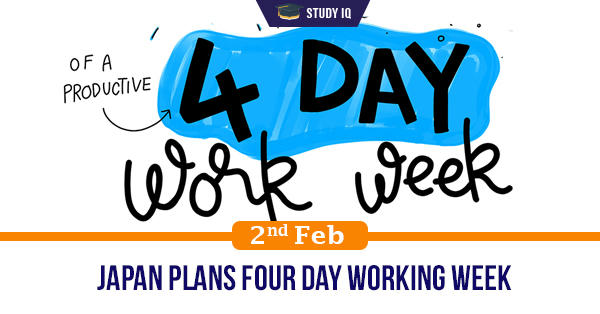 Japan plans four day working week
Date: 02 February 2021
Tags: Miscellaneous
Issue
Members of the Japanese parliament have opened discussions on a proposal to permit workers to opt for a four-day working week instead of the traditional five-day.
Background
Japanese employees are famous for putting in long hours at their desks and declining to take all their annual holidays for fear of inconveniencing office colleagues.
Details
A handful of Japanese companies have already instituted flexible working systems, but the changes brought by COVID-19 have hastened the debate on the issue.

In recent decades, Japan has shifted from an economy that is based on manufacturing to one that is more reliant on the service sector and financial services.

The nation's population continues to contract from 126.5 million at present to possibly as few as 83 million by the end of the century.

The government wants changes in the working environment for millions of Japanese to bring an end to "karoshi," the primarily Japanese problem of death brought on by overwork.

A 2016 government study determined that one in five Japanese workers were at risk of karoshi, with nearly a quarter of companies requiring staff to put in more than 80 hours or overtime each month.

As a consequence, several hundred people were dying every year of heart attacks, strokes or other medical problems brought on by overwork, with more driven to suicide.

A new law went into effect in April 2019 that limited overwork to 100 hours a month and imposed fines on companies that broke the rules.
Benefits
The law would enable more people to work fewer hours and be less stressed, which would in turn reduce the likelihood of karoshi.

Enabling workers to choose to have a three-day weekend would give them more opportunities to spend time with their children or elderly relatives, pursue educational opportunities, examine the possibility of other business ventures and contribute to the national economy by consuming.

Couples who want to have more children but fear they just do not have the time to raise youngsters, might change their minds and have larger families. This would help in reversing the problem of a declining population.
Drawbacks
The major drawback that has been identified is, inevitably, the lower wage associated with working one day less per week.

The biggest obstacle to a widespread acceptance of the system would be from older and traditionally minded manager-level employees, who are likely to frown upon a new generation of workers.