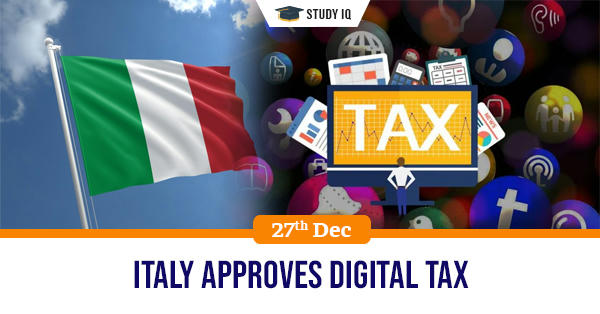 Italy approves digital tax
Date: 27 December 2019
Tags: Miscellaneous
Issue
Italy has approved a new tax to be levied on large tech companies, a move that is likely to put more strain on the country's relations with the U.S.
Background
The tax is similar to the one France implemented earlier this year which has attracted severe criticism from the U.S.
Details
The Italian parliament has approved a three percent digital tax on some digital revenue of technology companies that make over $831 million in global revenue, including least $6 million in Italy.

Dozens of countries are working on proposals to change corporate tax schemes to capture money from tech firms that have users across the world, such as Facebook and Google's parent company Alphabet.

The U.S has opposed digital services taxes because they have a discriminatory impact on U.S.-based businesses and are inconsistent with the architecture of current international tax rules.

Representatives of trade body say that France's digital services tax discriminates against U.S. companies, is inconsistent with prevailing principles of international tax policy, and is unusually burdensome for affected U.S. companies.

Authorities are also planning to explore Section 301 of the Trade Act of 1974, which provides the U.S. with the authority to enforce trade agreements, resolve trade disputes, and open foreign markets to U.S. goods and services.
Digital tax
Digital tax is a tax applied to digital business activities. Those include both digital-only brands which deal with virtual commodities and the services traditional market players use while transforming their businesses with digital technologies.
Digital businesses have three distinct characteristics:
(a) They are not physically established - for example, Facebook, can offer all of their services with limited or no physical presence.
(b) They heavily rely on intellectual property assets (which can be quite mobile) and are typically located in, or worse shifted to, a low-tax jurisdiction.
(c) They are able to generate value through highly engaged 'user participation' from the source country market.

Protectionism
Protectionism refers to government actions and policies that restrict or restrain international trade for the benefit of a single domestic economy.