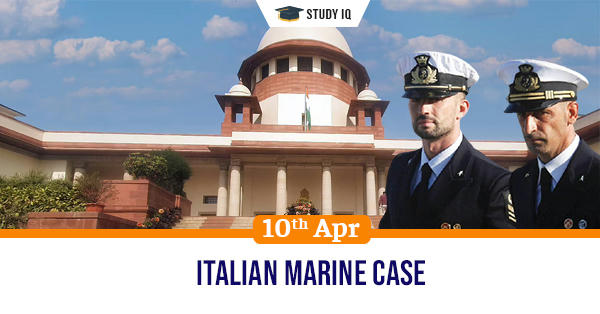 Italian marine case
Date: 10 April 2021
Tags: Miscellaneous
Issue
The Supreme Court has said that the Italian marine case will be closed only after Italy deposits Rs 10 crore as compensation for victims.
Background
The amount of compensation was agreed mutually by India and Italy under award by an international tribunal.
Details
The court said that Rs 4 crore each out of the compensation will be given to the next of kin of the two fishermen killed by the marines while Rs 2 crore will go to the owner of the fishing vessel.
Italian Marines case
In 2012, fishermen returning from fishing expedition were killed by the marines onboard the oil tanker Enrica Lexie.

After the incident occurred, the Indian coast guard intercepted the vessel and arrested two of the marines accused of killing the fishermen.

After a FIR was registered, the NIA took over the case and invoked Convention for the Suppression of Unlawful Acts Against the Safety of Maritime Navigation (SUA).
Dispute
India has argued that the incident occurred in its Exclusive Economic Zone and it had full jurisdiction over trial.

The Kerala High Court said it had jurisdiction of about 200 nautical miles and the case would be under its ambit. The Supreme Court however said that India and not Kerala had jurisdiction over the case.
Italy's arguments
The Italian authorities say that the fishing vessel was indulging in activity similar to pirate vessel. It had come closer near oil tanker despite the warning shots fired by the marines.

It also says that marines were doing only their job and they enjoyed sovereign functional immunity in India.

Italy criticised the move to invoke SUA charges equating it to an act of terrorism. India dropped SUA charges against the marines in 2014.

The Supreme Court put a stay on all proceedings against the two Italian marines. The issue finally reached the Permanent Court of Arbitration in July, 2019.
The ruling
The court said that the marines will not be tried in India, and will face criminal charges in Italy. India was entitled to compensation and there would be discussion to fix the amount.
India's reaction
The Government of India has told the Supreme Court that it will accept the compensation and would seek to dispose the proceedings.

The Court however said that it will not pass any order without hearing the victim families. It would demand adequate compensation for the families.