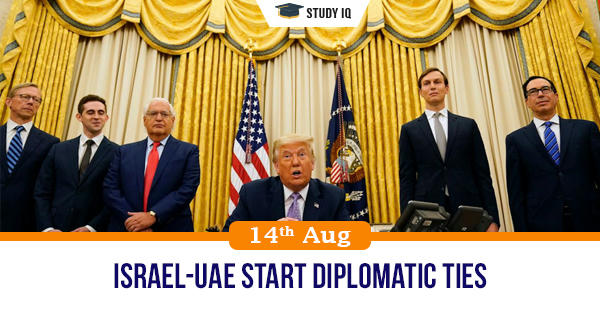 Israel-UAE start diplomatic ties
Date: 14 August 2020
Tags: Miscellaneous
Issue
US President Donald Trump said that the United Arab Emirates and Israel have agreed to establish full diplomatic ties as part of a deal to halt the annexation of occupied land sought by the Palestinians for their future state.
Background
The recognition grants a rare diplomatic win to Trump ahead of the November election as his efforts to see an end to the war in Afghanistan have yet to come to fruition.
Details
The announcement makes the UAE the first Gulf Arab state to do so and only the third Arab nation to have active diplomatic ties to Israel.

For Israel, the announcement comes after years of boasting by Israeli Prime Minister Benjamin Netanyahu that his government enjoys closer ties to Arab nations than publicly acknowledged.

For the UAE, it further burnishes its international campaign to be seen as a beacon of tolerance in the Middle East despite being governed by autocratic rulers.

It also puts the UAE out first in a regional recognition race among neighbouring Gulf Arab states. And for the Palestinians, who long have relied on Arab backing in their struggle for independence, the announcement marked both a win and setback.

Delegations would meet in the coming weeks to sign deals on direct flights, security, telecommunications, energy, tourism and health care.

Among Arab nations, only Egypt and Jordan have active diplomatic ties with Israel. Egypt made a peace deal with Israel in 1979, followed by Jordan in 1994.

Mauritania recognized Israel in 1999, but later ended relations in 2009 over the Israel's war in Gaza at the time.

In recent years, ties between Gulf Arab nations and Israel have quietly grown, in part over their shared enmity of Iran and the Lebanese militant group Hezbollah.