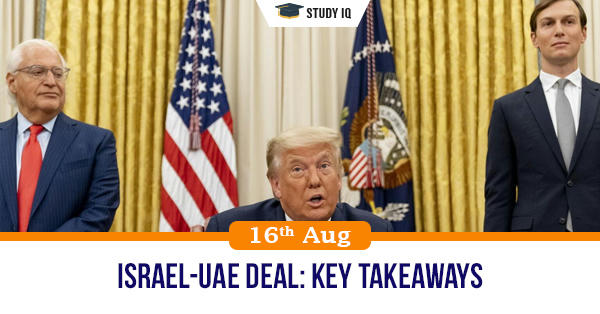 Israel-UAE deal: Key takeaways
Date: 16 August 2020
Tags: Miscellaneous
Issue
Israel and the United Arab Emirates, helped by the US, have arrived at an important peace agreement that has the potential to change the geopolitics of West Asia and beyond.
Background
The agreement has been cast as the coming together of two nations with strong economies for the good of the region.
Details
The deal: the UAE will establish diplomatic relations with Israel in return for President Binyamin Netanyahu committing to give up a stated plan to annex the West Bank, the main territory of a state that the Palestinians want.

The UAE becomes the third Arab nation to recognize Israel after Egypt (in 1979) and Jordan (1994).

Delegations from the two countries will meet to set in motion bilateral ties in investment, tourism, direct flights, security, telecommunications, tech, energy, healthcare, culture, the environment, etc.

President Mahmoud Abbas of the Palestinian Authority, which seeks a two-state solution, lashed out against the deal as a "betrayal" by the UAE.

The Hamas, a Palestinian Islamist militant group that de facto runs the Gaza strip, and views the relationship with Israel as a fight to the finish, called it a "stabbing in the back of our people" by the UAE.

For the Palestinians, the Israeli commitment that it will not pursue its plan to annex the West Bank, is an empty concession – the deal does not address the Palestinian demand for statehood.

There is bound to be speculation that the UAE could not have taken its extraordinary decision on Israel without the backing and support of the House of Saud.

If the Arab states do fall in line, it would dramatically bring all Sunni nations in the region in an anti-Iran alliance with Israel that they have secretly wished for all these years.

The deal will send ripples through other parts of the world. In South Asia, it will put Pakistan in a bind. Despite having toyed with the idea of establishing diplomatic ties with Israel for nearly two decades, Pakistan could never take the plunge for fear of a domestic backlash.

Even if the UAE-Israel agreement does not bring Israel-Palestine peace, the new equations that it will give rise to, including the isolation of Iran, are already being heralded in the US as an achievement for Trump administration.