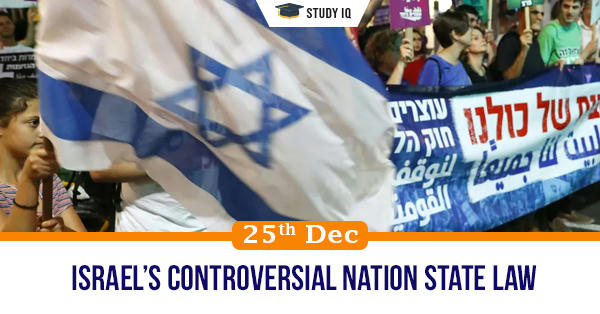 Israel's controversial nation state law
Date: 25 December 2020
Tags: Miscellaneous
Issue
Approximately two years after Israel passed its controversial nation state law, the country's Supreme Court assembled to hear a petition asking for the scrapping of this law.
Background
Israel's political situation is in turmoil as it faces elections after elections. The Prime Minister is facing graft charges and the new development is expected to cause further issues.
Details
The petition asks for a declaration that articles in this law are unconstitutional, specifically those pertaining to Israel's official language and land allocation laws.

Israel is scheduled to hold its fourth elections in two years after the country's two main parties in its unity government failed to meet a deadline in a dispute over government budgets.
Nation state law
Informally known as the 'nation state law', the 'Basic Law: Israel as the Nation-State of the Jewish People' is one of the 14 Basic Laws or constitutional laws of the State of Israel.

The law allows Israel to identify itself as the nation-state of the Jewish people, and promotes Jewish people's right to self-determination.

When enacted in 2018, it downgraded Arabic from the status of an official language to one that had special status.

Among other clauses, it also allows the development of Jewish settlements. One of the first clauses in this law says, "the State of Israel is the national home of the Jewish people, in which it fulfills its natural, cultural, religious, and historical right to self-determination" and that the "right to exercise national self-determination in the State of Israel is unique to the Jewish people."

The law is symbolic and declarative, but critics argue that it particularly discriminates against the Arab minority in the country and excludes other communities that call the country home.

None of Israel's Basic Laws have been invalidated by the country's courts and legal experts believe that in this case, it is unlikely that the Supreme Court would intervene.