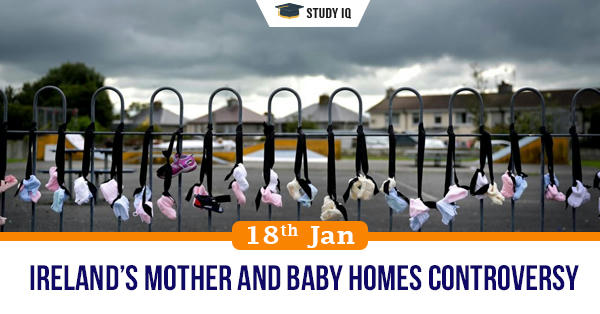 Ireland's mother and baby homes controversy
Date: 18 January 2021
Tags: Miscellaneous
Issue
Irish Prime Minister has apologised and expressed remorse for the country's mother and baby homes, where thousands of unmarried women and their children were cruelly treated from the 1920s to the 1990s.
Background
The apology came after the publication of a long-awaited report into the functioning of these institutions.
Details
The facilities housed women who became pregnant out of wedlock, including victims of rape and incest, and also worked as orphanages and adoption centres.

As per the report, around 15 per cent of all children who lived at the homes during the period died due to brutal living conditions.

In 2012, an article was published about a closed down mother and baby institution in the western town of Tuam which was run by the Bon Secours Sisters.

Author wrote about the high rate of infant deaths while the home was functioning between 1925 and 1961, and questioned why there were no records about where the babies were buried.

Further investigation revealed that up to 800 infants were secretly buried in a mass grave at the institution. The news story sparked outrage both in Ireland as well as internationally.

The Irish government formed an investigative commission to look into 18 mothers and baby homes around the country.

The investigation covered the causes of infant mortality, burial conditions, whether mothers could give free consent for their children to be adopted, as well as probing the allegations of unethical vaccine trials carried out on residents.
Findings of the report
In 2017, the commission discovered "significant quantities of human remains" at the Tuam site. The interim report said that 802 children died at the Tuam home during the 36 years that it was running, and were buried in a chamber structure.

The same report revealed that over 900 children had died while residing at another mother and baby home in the southwest city of Cork, and that it was unknown where the vast majority of them were buried.

It has been alleged that the children were mistreated because they were born to mothers out of wedlock, and many at the time saw both the children and their mothers as a stain on Ireland's conservative Catholic roots.