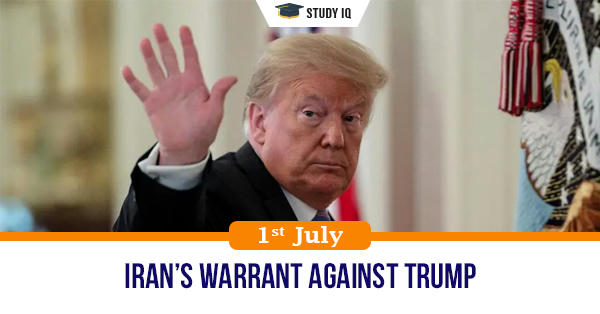 Iran's warrant against Trump
Date: 01 July 2020
Tags: Miscellaneous
Issue
A local prosecutor in Iran issued an arrest warrant against US President Donald Trump and dozens of others who they believe carried out the drone strike that killed Iranian general Qassem Soleimani in Baghdad.
Background
In early 2020, Soleimani was killed in an airstrike, for which the US claimed responsibility. The drone strike was carried out on a road near Baghdad's international airport after Soleimani had disembarked from a plane.
Details
Soleimani was in charge of the Quds Force of Iran's Islamic Revolutionary Guard Corps (IRGC), which the US designated as a Foreign Terrorist Organization. The Quds Force undertakes Iranian missions in other countries, including covert ones.

Soleimani, who had headed the Quds since 1998, not only looked after intelligence gathering and covert military operations but also drew immense influence from his closeness to Iran's supreme leader, Ayatollah Ali Khamenei and was seen as a potential future leader of Iran.

Because of Soleimani's influence, his death was equated with the death of a US Vice President. At the time the US Department of Defence also issued a statement underlining Soleimani's leadership role in the conflict with the US.

The prosecutor has asked Interpol to issue a Red corner notice. Interpol describes a Red Notice as "a request to law enforcement worldwide to locate and provisionally arrest a person pending extradition, surrender, or similar legal action".

Red Notice is simply an international wanted person's notice and not an international arrest warrant. It is unlikely Interpol would grant Iran's request.

The guidelines for issuing such notices limit it from "undertaking any intervention or activities of a political" nature and therefore, at best, Iran's move signals and the heightened tensions between the two countries.
Interpol notices
Red Corner Notice
This notice is issued to seek the arrest or provisional arrest of wanted criminals, with the intention of extradition of the culprits.
A Red corner Notice is a request to locate and provisionally arrest an individual who is convicted in a criminal case.
Yellow Notice
This notice is issued to locate missing persons, often minors or to seek help in identifying persons who are unable to identify themselves (in case of minors and people of unsound mind).
Blue Notice
This notice is issued to the country the criminal belongs to and to collect more information about a person's identity or activities related to the crime.
Black Notice
Black Notice is issued by INTERPOL to seek information of unidentified bodies. Here unidentified bodies mean the dead body of a person whose identity cannot be revealed by police and medical examiners.
Purple Notice
This category aids Interpol's efforts to tackle environmental criminals. This notice is issued for those criminals who hunt wild animals and sell their body parts in the international market.

Green Notice
Green Notice is issued to provide warnings and intelligence about persons who have committed criminal offences and are likely to repeat these crimes in other countries as well. This type of notice is issued to many serial sex offenders.

Interpol-United Nations Security Council Special Notice
This type of notice is issued for groups and individuals who are the targets of UN Security Council Sanctions Committees.
Orange Notice
This type of Notice is issued to set alert about a person, an object, parcel bombs, disguised weapons and other dangerous and explosive materials; representing a serious and imminent threat to public safety.