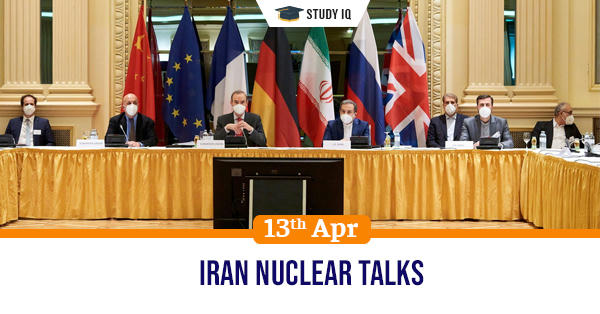 Iran nuclear talks
Date: 13 April 2021
Tags: Miscellaneous
Issue
Signatories of 2015 Iran nuclear deal will come together in Vienna to start talks regarding compliance on Iran's nuclear enrichment experiment.
Background
The deal will benefit Iran as it will remove economic sanctions. In addition, it will control use of nuclear technology.
Details
Iran and US have insisted returning to nuclear deal, also known as Joint Comprehensive Plan of Action, but nothing concrete has materialised.

President Donald Trump had cancelled the agreement citing non-adherence by Iran. He then restored the harsh economic sanctions on Iran.

In response, Iran enriched Uranium beyond the control limits and further tried to weaponize the technology. Its actions became aggressive as it tried to tackle US sanctions.
Vienna talks
The Vienna talks will aim at creating a roadmap for US, Iran and other signatories of JCPOA to come together for restoring the deal.

The JCPOA deal was signed after years of hard negotiations by European Union, Britain, France and Germany. They were later joined by other UN permanent members.

The secret talks between US and Iran found a common path when US agreed for Uranium enrichment under certain threshold.

This deal was however considered very weak by US Congress and Israel which feared that the deal will legitimize Iran's nuclear programme.

The Iranian regime wants US to remove the sanctions before any further talks on deal can be initiated. Other European countries have not much to do due to America's influence.
Barriers in deal
Currently about 1,600 types of sanctions have been imposed on Iran. Some of the sanctions are based on terrorism and human rights violations, not nuclear issues. Removing these sanctions will face opposition from Congress.

Many policymakers in Washington also do not believe in Iran's assertions on peaceful use of nuclear technology.

Iran's politics too has a bearing on the deal. The moderates running for Presidential elections hope that the deal could give them advantage while hardliners have tried to put brakes in any future developments.