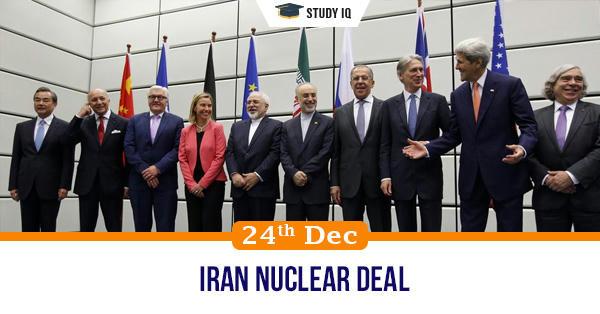 Iran nuclear deal
Date: 24 December 2020
Tags: Miscellaneous
Issue
With the return of Democrats at the helm of foreign affairs, it is expected that the historic Iran Nuclear Deal would be revived.
Background
There was a unanimous call to decide on the deal during the high-level virtual conference on between the foreign ministers of Iran, France, Germany, UK, China and Russia.
Details
Biden has in the past expressed willingness for the US returning to the deal, which was signed while he was vice president under Obama.
The Nuclear deal
The Iran nuclear deal, officially the Joint Comprehensive Plan of Action (JCPOA), was signed between Iran and the P5 (the five permanent members of the UN Security Council–the US, UK, France, China and Russia) plus Germany and the European Union in Vienna in July 2015.

Under the agreement, Iran agreed to limit its nuclear program in return for relief from crippling economic sanctions imposed by the UN, US and the EU.

The deal limited the number of centrifuges Iran could run and restricted them to an older, slower model. Iran also reconfigured a heavy-water reactor so it couldn't produce plutonium, and agreed to convert its enrichment site at Fordo into a research centre.

It granted more access to inspectors from the UN's nuclear watchdog, the International Atomic Energy Agency (IAEA), and allowed it to look at other sites.

In exchange, world powers lifted the economic sanctions that had kept Iran away from international banking and the global oil trade.

The deal allowed Iran to purchase commercial aircraft and reach other business deals. It also unfroze billions of dollars Iran held overseas.

During his 2016 campaign, President Donald Trump criticised the deal for being too lenient on Iran, and for not addressing Iran's ballistic missile program or involvement in regional conflicts.

After the Republicans won the presidential race that year, the US first tried in vain to renegotiate the accord with Iran, and then unilaterally withdrew from it in May 2018.

The Trump administration re-imposed sanctions on Iran, and also warned other countries against doing business with the hydrocarbon-rich nation.
Post withdrawal
Despite the US withdrawal, Iran said it would continue to uphold its commitments under the JCPOA. In May 2019, reeling under re-imposed US sanctions, Iran said it would cease to adhere to some of the deal's commitments, unless other members agreed to its economic demands.
Future challenges
The challenge in resuming the agreement in its present form is that Iran is currently in violation of several of its important commitments, such as the limits on stockpiles of enriched uranium.

JCPOA countries are also optimistic about reviving the deal because Iran has continued to allow IAEA inspectors full access to its nuclear sites, even as it has violated its treaty obligations.