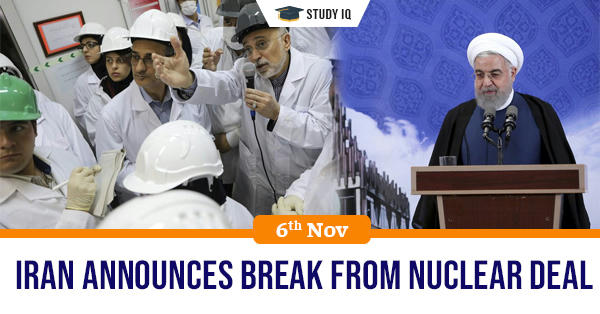 Iran announces break from nuclear deal
Date: 06 November 2019
Tags: Miscellaneous
Issue
Iran's President Hassan Rouhani has announced that Tehran will begin injecting uranium gas into 1,044 centrifuges in an attempt to produce weapon grade enriched uranium.
Background
Iran has been desperate to produce weapon grade fuels in order to boost its nuclear program. The development is significant as the centrifuges previously spun empty, without gas injection, under the 2015 nuclear accord.
Details
The centrifuges at Fordo are IR-1s, Iran's first-generation centrifuge. The nuclear deal allowed those at Fordo to spin without uranium gas, while allowing over 5,000 at its Natanz facility to enrich uranium.

Iran is currently working on a prototype that is 50 times faster than those allowed by the deal.

It is operating 60 IR-6 advanced centrifuges. Such a centrifuge can produce enriched uranium 10 times as fast as the first-generation IR-1s allowed under the accord.

Iran has previously broken through its stockpile and enrichment limitations, trying to pressure Europe to offer it a new deal, more than a year since US from the accord.
Iran nuclear deal
The Iran nuclear deal framework was a preliminary framework agreement reached in 2015 between the Islamic Republic of Iran and a group of world powers: the P5+1 (the permanent members of the United Nations Security Council, The United States, The United Kingdom, Russia, France, and China plus Germany) and the European Union.
Joint Comprehensive Plan of Action
Negotiations toward JCPOA began with the adoption of the Joint Plan of Action, an interim agreement signed between Iran and the P5+1 countries.

Under JCPOA, Iran agreed to eliminate its stockpile of medium-enriched uranium, cut its stockpile of low-enriched uranium by 98%, and reduce by about two-thirds the number of its gas centrifuges for 13 years.

For the next 15 years Iran will only enrich uranium up to 3.67%. Iran also agreed not to build any new heavy-water facilities for the same period of time.

Uranium-enrichment activities will be limited to a single facility using first-generation centrifuges for 10 years. Other facilities will be converted to avoid proliferation risks.

To monitor and verify Iran's compliance with the agreement, the International Atomic Energy Agency (IAEA) will have regular access to all Iranian nuclear facilities.

The agreement provides that in return for verifiably abiding by its commitments, Iran will receive relief from U.S., European Union, and United Nations Security Council nuclear-related sanctions.