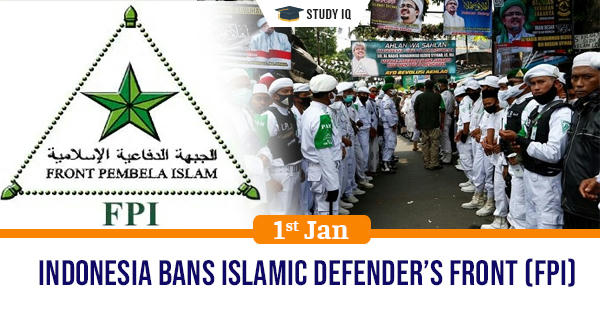 Indonesia bans Islamic Defender's Front (FPI)
Date: 01 January 2021
Tags: Miscellaneous
Issue
Indonesia has banned the hard-line religious group the Islamic Defender's Front, raising the prospect of rising political tension.
Background
The ban came after last month's return of the group's spiritual figurehead, Rizieq Shihab, from self-exile in Saudi Arabia.
Details
He was seen as making efforts to harness opposition forces against President Joko Widodo using Islam as a rallying cry.

The group advocates a strict interpretation of Islam and developed a reputation for raiding bars and brothels, intimidating religious minorities. It has also been involved in humanitarian work after natural disasters.

In 2016, the FPI played a role in mass protests against Jakarta's Christian former governor, who was jailed for insulting Islam.

The leader of the group was jailed in 2008 for inciting violence and left the country in 2017 after facing charges of pornography, and insulting the state ideology, which were later dropped.

While the decision to ban the FPI is legally sound, analysts say the move may backfire and only lead to new iterations.
Growing role of Islam in politics
The 2016 rallies spearheaded by the FPI and other Islamic groups saw the religion take on an increasingly prominent political role.

In a move widely seen as an attempt to appeal to Islamic voters, the president, Joko Widodo, chose senior cleric Ma'ruf Amin as his vice presidential running mate in 2019.