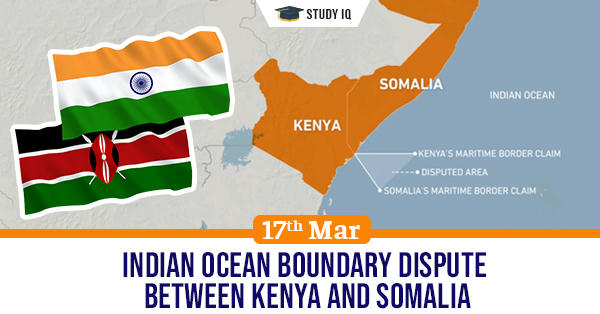 Indian ocean boundary dispute between Kenya and Somalia
Date: 17 March 2021
Tags: Miscellaneous
Issue
Kenya has refused to participate in the proceedings of International Court of Justice (ICJ) over ocean boundary dispute with Somalia.
Background
Kenya and Somalia have had a long history of maritime disputes. Kenya has accused International Court of Justice of bias towards Somalia.
Details
The main point of dispute between the two countries is the direction of extent of their maritime boundary in the Indian Ocean.

Somalia says that its maritime boundary should extend to the same direction as that of land border as it approaches the Indian Ocean.

Kenya argues that the territorial southeast border should take a 45 degree turn as it approaches the sea, and then run in a latitudinal direction parallel to the equator.
Significance of disputed territory
The triangular area formed by the disputed territory supports large marine fishery resources. In addition, it contains oil gas deposits.
Resolving the dispute
Kenya and Somalia tried to resolve the issue bilaterally but failed to do so. Somalia intended to approach International Court of Justice but was resisted by Kenya citing non-jurisdiction.

The ICJ has made it clear that it does have jurisdiction on this issue. However, Kenya has been successful in postponing the hearing.
International Court of Justice (ICJ)
ICJ rulings are considered binding, although the international body has no powers to ensure enforcement, and many countries have ignored its verdicts.
Implications
The move would be beneficial to Kenya as it can get much more area under its Exclusive Economic Zone.