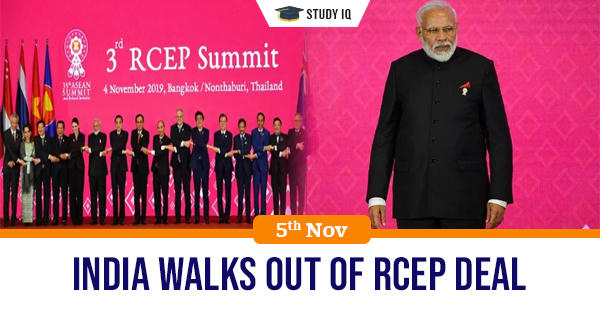 India walks out of RECP deal
Date: 05 November 2019
Tags: Miscellaneous
Issue
Prime Minister Narendra Modi announced that India was dropping out of the RCEP agreement, citing its negative effects on farmers, MSMEs and dairy sector.
Background
India has reiterated its stand that it would like to be part of a mutually beneficial RCEP deal, which is in interest of all the participants including its own citizens. With chances of repurcusions on domestic industry due to the deal, India has been reluctant to join.
Details
The government is keen uphold the stakes of Indian farmers, traders, professionals and industrialists, all of whom have protested against the government's decision to go ahead with the negotiations in the last few months.

Since 2012, there have been 28 rounds of negotiations that went right down to the end of the summit at the RCEP ministerial meeting, which ended inconclusively for India.

The outstanding issues included major trade deficits with all the countries in RCEP, lack of assurances on market access, and RCEP negotiators' insistence on keeping 2014 as the base year for tariff reductions.

India has also not received any credible assurances on its demand for more market access, and its concerns over non-tariff barriers.

RCEP participants like China are known to have used non-tariff barriers in the past to prevent India from growing its exports to the country.
Major oppositions
The decision to join RCEP met with stiff resistance in India from most industry and farmers' bodies. The All India Kisan Sangharsh Coordination Committee (AIKSCC), which represents about 10 lakh farmers, had called for an all-India protest on Monday against joining.

The Confederation of All India Traders, which represents about seven crore traders, made several representations to the Commerce Ministry to keep steel and allied services, and dairy out of the purview of the RCEP agreement.

They have argued that some domestic sectors may take a hit due to cheaper alternatives from other participant countries. For instance, the dairy industry was expected to face stiff competition from Australia and New Zealand.
RCEP deal
The RCEP brings together 16 member countries. They include Asociation of South Asian Nations (Myanmar, Laos, Thailand, Malaysia, Indonesia, Singapore, Vietnam, Brunei, Philippines,Cambodia) along with India, China, Japan, South Korea, Australia and New Zealand.
The purpose of the deal is to create an integrated market spanning all 16 countries. This means that it would be easier for the products and services of each of these countries to be available across the entire region.
The RCEP is billed to be the largest regional trading agreement yet the countries involved account for almost half of the world's population, contribute over a quarter of world exports, and make up around 30% of the global Gross Domestic Product