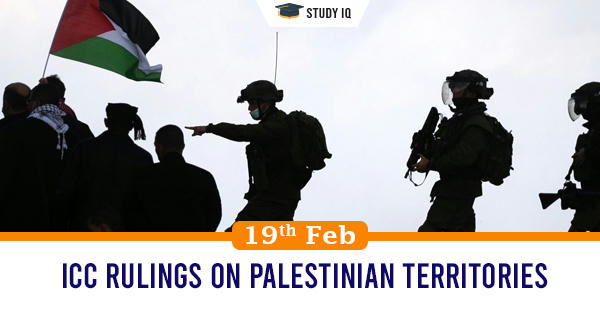 ICC rulings on Palestinian territories
Date: 19 February 2021
Tags: Miscellaneous
Issue
The International Criminal Court said that the court has jurisdiction over war crimes committed in the Palestinian territories.
Background
The ICC would have jurisdiction to investigate potential war crimes committed in Palestinian territories. Israel has criticised this move.
Details
This ruling was a result of the Palestinian Authority gaining formal membership of international criminal court in 2015. Israel is not a member of the ICC.

The Court's territorial jurisdiction in the Situation in Palestine extends to the territories occupied by Israel since 1967, namely Gaza and the West Bank, including East Jerusalem.

The US had imposed sanctions on ICC officials for investigating war crimes committed by the US in the Middle East and had openly opposed and rejected the ICC's jurisdiction.

According to this new ruling, it is not only Israelis and the Israel Defence Forces who could be potentially prosecuted for war crimes, but also Palestinians and groups like Hamas.
Indian stand
Israel has been pushing its good friend India to take a stand against the ICC ruling, but Delhi is reluctant to do so given its own geopolitical interests.

India is not a member of the Rome Statute, the founding treaty of the ICC and it would not want to comment or take a position on any of the court's decisions or rulings.
International Criminal Court
The ICC is the first and only permanent international court with jurisdiction to prosecute individuals for the international crimes of genocide, crimes against humanity, war crimes, and the crime of aggression.

It is intended to complement existing national judicial systems and it may therefore exercise its jurisdiction only when national courts are unwilling or unable to prosecute criminals.

The ICC has faced a number of criticisms from states and society, including objections about its jurisdiction, accusations of bias, questioning of the fairness of its case-selection and trial procedures, and doubts about its effectiveness.