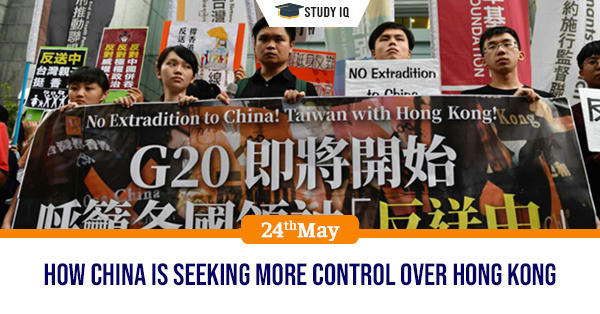 How China is seeking more control over Hong Kong
Date: 24 May 2020
Tags: Miscellaneous
Issue
China has started pushing for an improvement in the Basic Law, the mini-constitution that defines ties between Hong Kong and Beijing.
Background
The new law, which is being described as the most sweeping step at curbing dissent so far, seeks to ban "treason, secession, sedition and subversion", and could be passed without consulting the Hong Kong legislature.
Details
A former British colony, Hong Kong was handed over to mainland China in 1997, becoming one of its Special Administrative Regions. It is governed by a mini-constitution called the Basic Law, which affirms the principle of "one country, two systems".

The constitutional document is a product of the 1984 Sino-British Joint Declaration, under which China promised to honour Hong Kong's liberal policies, system of governance, independent judiciary, and individual freedoms for a period of 50 years from 1997.

Since the handover, Hong Kong residents have time and again taken to the streets to protect their Basic Law freedoms, with the first major pro-democracy protest taking place in 2003. In 2014, over one lakh city residents took part in the 'Umbrella Revolution' to protest against China's denial of democratic reforms.

The largest protests since the 1997 handover took place last year, when for months tens of thousands of Hong Kongers agitated against a proposed extradition law, and continued with pro-democracy marches even after the legislation was withdrawn.

Under Article 18, national laws can be applied in Hong Kong if they are placed in Annex III, and must be "confined to those relating to defence and foreign affairs as well as other matters outside the limits of the autonomy of the Region.

Once listed in Annex III, national laws can be enforced in the city by way of promulgation, meaning automatically being put into effect, or by legislating locally in the Special Administrative Region.

The new law would ban seditious activities that target mainland Chinese rule, as well as punish external interference in Hong Kong affairs.

A major blow to Hong Kong's freedoms, the law could effectively bring the city under full control of mainland China. The move could also undermine Hong Kong's position as an East Asian trading hub.