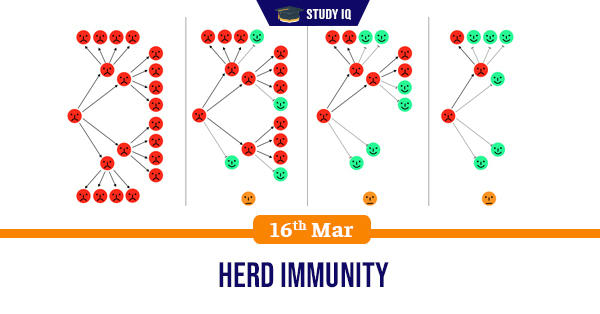 Herd immunity
Date: 16 March 2020
Tags: Miscellaneous
Issue
Britain has announced a unique strategy to tackle Coronavirus situation. The chief scientific adviser to the UK government, said authorities would contain the spread of the virus but would "not suppress it completely", in order to build up a degree of 'herd immunity'.
Background
Britain has faced criticism for its soft approach to the coronavirus. The scientific advisor's statement, too, led to a barrage of criticism from medical professionals and the public.
Details
Herd immunity is when a large number of people are vaccinated against a disease, lowering the chances of others being infected by it. When a sufficient percentage of a population is vaccinated, it slows the spread of disease. It is also referred to as community immunity or herd protection.

Herd protection of the unvaccinated occurs when a sufficient proportion of the group is immune. The decline of disease incidence is greater than the proportion of individuals immunized because vaccination reduces the spread of an infectious agent by reducing the amount and/or duration of pathogen shedding by vaccines, retarding transmission.

The approach would require those exposed to the virus to build natural immunity and stop the human-to-human transmission. This will, it is believed, subsequently halt its spread.

Earlier this month, WHO said COVID-19 was a new virus to which no one has immunity. That means more people are susceptible to infection, and some will suffer severe disease.

Large number of people have criticised the government's policy regarding herd immunity. They say that immediate focus should have been to save lives.