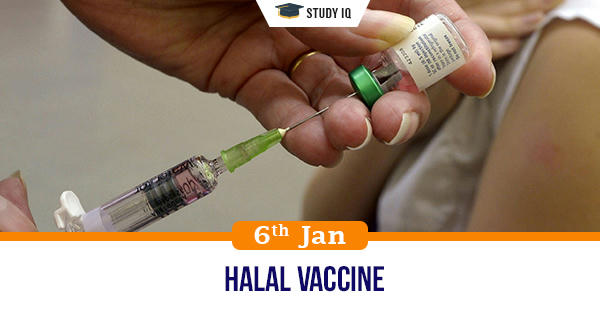 Halal vaccine
Date: 06 January 2021
Tags: Miscellaneous
Issue
Chinese vaccine manufacturer of SinoVac has assured Indonesian clerics that the vaccine was produced without use of porcine materials.
Background
Followers of Islam in Indonesia have expressed their apprehension about presence of materials that are prohibited in Islam. This could prevent people from getting inoculated.
Details
The Chinese company's delayed response has been yet another challenge in Indonesia's already fragile vaccine rollout.

But looming questions about the safety of the SinoVac vaccine and whether it is halal (allowed under Islam) are complicating the government's efforts.

The vaccine must also undergo a separate approval process by the Ulema Council, an influential group of Muslim clerics that decides which products are halal in Indonesia.

Islamic authorities in other countries where Muslims make up a sizable share of the population, including Malaysia and the United Arab Emirates, have already ruled that coronavirus vaccines are permissible, even if they contain pork gelatin, which is used to stabilize many inoculations.

The Vatican has declared coronavirus vaccines "morally acceptable" for Catholics who might be opposed to a vaccine developed with stem cells from foetuses aborted decades ago.

Indonesia has ordered vaccines from several companies but plans to rely mostly on SinoVac, which has already delivered 3 million doses. It is the only vaccine to have arrived in the country so far.
Halal
Halal is an Arabic word that translates to "permissible or lawful" into English. The term halal is particularly associated with Islamic dietary laws and especially meat processed and prepared in accordance with those requirements.

The words halal and haram are the usual terms used in the Quran to designate the categories of lawful or allowed and unlawful or forbidden.

The most common example of haram (non-halal) food is pork. While pork is the only meat that categorically may not be consumed by Muslims.