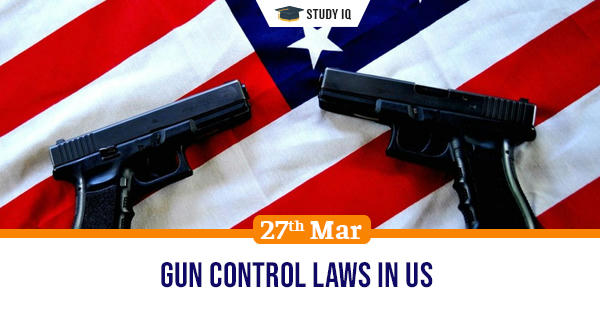 Gun control laws in US
Date: 27 March 2021
Tags: Miscellaneous
Issue
In the past few weeks US has seen a slew of mass shooting attacks that have killed a substantial number of people. This has renewed debate on gun control laws.
Background
US is one amongst the worst countries when it comes to controlling sale of guns. Its laws are lax and do not offer protection against misuse.
Details
There are about 12 firearms for every 10 people. This is the reason why incidents of mass shootings and rampage are quite common.

The US constitution has a written provision for allowing individuals to buy gun. Only certain individuals with criminal history or mental illness may find it difficult to own firearms.
Gun ownership
Gun ownership is a right throughout the country but different states have different laws for ownership. Some may be strict while other may be lax.

The gun control law is present in the second amendment of the constitution. The court has interpreted that possessing a firearm for traditionally lawful purposes such as self-defence is valid under the law.
Public opinion
Majority of Americans think that gun laws should be made stricter so that everyone cannot access them.

Majority of them agreed that there would be lower number of mass shooting incidents if gun laws are made stricter.

President Biden has called for passing two new bills that will widen background checks on gun buyers. The administration also wants assault type weapons banned.