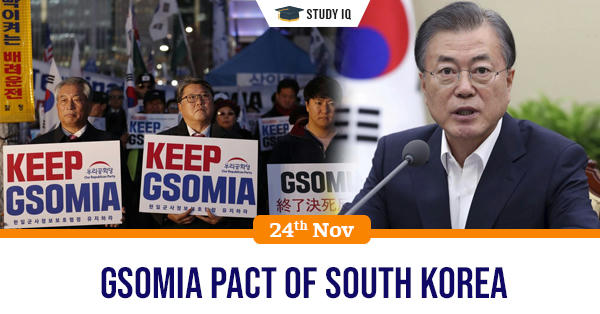 GSOMIA pact of South Korea
Date: 24 November 2019
Tags: Miscellaneous
Issue
South Korea has decided to suspend its plans to quit an intelligence sharing pact, GSOMIA with Japan amid pressure from the US.
Background
Previously, South Korea had decided to discontinue the intelligence pact called the General Security of Military Information Agreement (GSOMIA), unless Japan decided to review its export control measures.
Details
The need for GSOMIA was felt amidst a growing threat from North Korea, especially when it started conducting nuclear tests and developing ballistic missiles.

The US' interest in this agreement arises from its need to forge alliances in the northeast to be able to analyse and respond to any threats from North Korea.

It is also felt that GSOMIA is an attempt by the US-Japan-South Korea trilateral alliance to contain Beijing, thereby maintaining a degree of opposition between this trilateral alliance and that of China-North Korea-Russia.

The relationship between Japan and South Korea has deteriorated, given the territorial dispute over the Dokdo islands also known as Takeshima in Japan. While South Korea controls them, the islands are claimed by Japan.

Japan imposed export controls on three chemicals that South Korea uses in its important semiconductor industry.

Japan also decided to remove South Korea from its "white list", a fast track trade list of trusted partners. This is considered to be retaliation for South Korea's decision to leave the intelligence pact.
GSOMIA pact
General Security Of Military Information Agreements (GSOMIA) is one of the four foundational agreements that the U.S. signs with allies and close partners to facilitate interoperability between militaries and sale of high end technology. GSOMIA allows militaries to share the intelligence gathered by them.