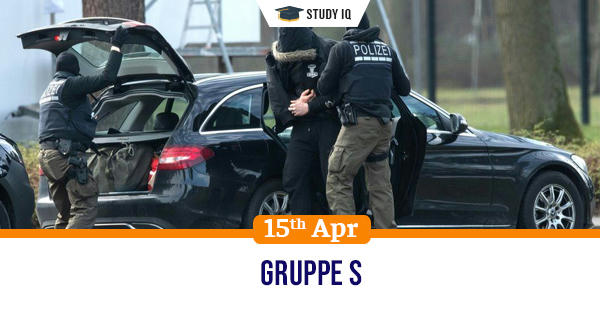 Gruppe S
Date: 15 April 2021
Tags: Miscellaneous
Issue
Several suspected members of a far-right group called as 'Gruppe S' (Group S) are undergoing trial in Germany.
Background
The members of Gruppe S are suspected to have planned attacks on mosques, asylum centres and German parliament.
Details
The charges were framed against the members of Gruppe S as well as supporters. The authorities have designated them as terrorist group.

The aim of the founding members of the group was to shake the social order as well as state of Germany through a civil war.

They also planned to attack large number of mosques and injure or kill the Muslims present in these mosques.

The group had even planned to kill political dissenters by buying firearms and raising 50,000 Euros for financial support.
Growth of far-right sentiment
The support for far-right groups has been increasing in Germany mainly due to failure of moderates.

Groups such as AfD in Germany and Vox in Spain have invoked national identity and migrant issue to gain popularity among common citizens.

In Sweden too, popular right wing party such as Sweden Democrats has been fuelling anger among people by raising Muslim migrant's issue.