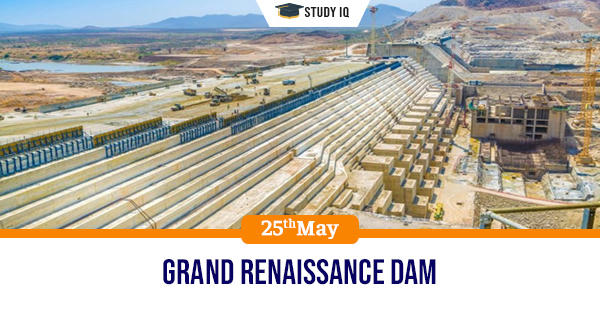 Grand Renaissance Dam
Date: 25 May 2020
Tags: Miscellaneous
Issue
Talks are set to begin between Ethiopia and Egypt in Washington D.C. on the future of the hydropower project on the Nile that is at the centre of these disputes: The Grand Renaissance Dam project.
Background
Africa's longest river, the Nile, has been at the centre of a decade-long complex dispute involving several countries in the continent who are dependent on the river's waters.
Details
When completed, the Grand Renaissance Dam hydropower project being constructed by Ethiopia will be Africa's largest. While the main waterways of the Nile run through Uganda, South Sudan, Sudan and Egypt, its drainage basin runs through other countries in East Africa, including Ethiopia.

Ethiopia began construction of the dam in 2011 on the Blue Nile tributary that runs across one part of the country. Egypt has objected to the construction of this dam and in Sudan has found itself caught in the midst of this conflict.

Due to the importance of the Nile as a necessary water source in the region, observers are concerned that this dispute may evolve into a full-fledged conflict between the two nations.

Ethiopia's mega project on the Nile may just allow the country to control the river's waters, and this is essentially what concerns Egypt because it lies downstream.

Tri-party talks between Egypt, Ethiopia and Sudan have been unable to reach agreements. Egypt isn't alone in its concerns.

Sudan is hardly a passive observer caught in the conflict just because of its location. It too believes Ethiopia having control over the river through the dam may affect its own water supplies.

Ethiopia believes this dam will generate approximately 6,000 megawatts of electricity when it is done. This dam will reduce those shortages and help the country's manufacturing industry. The country may also be able to supply electricity to neighbouring nations and earn some revenue in exchange.

Neighbouring countries like Kenya, Sudan, Eritrea and South Sudan also suffer from electricity shortages. If Ethiopia sells electricity to these nations, they may also reap benefits.

While Ethiopia has stated that it does not need Egypt's permission to fill the dam, Egypt on the other hand, wrote to the UN Security Council, saying the dam would jeopardise food and water security and livelihoods of ordinary Egyptian citizens.