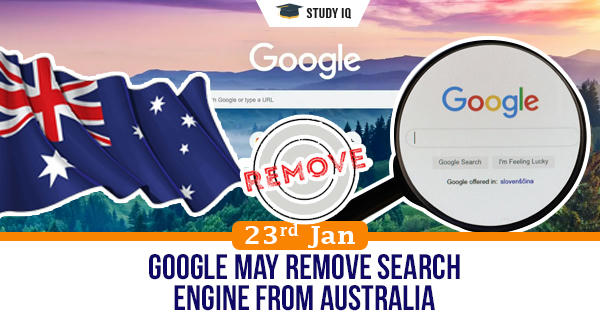 Google may remove search engine from Australia
Date: 23 January 2021
Tags: Miscellaneous
Issue
Google might remove its search engine in Australia if the country's government went ahead with its plans to make online tech companies pay for hosting news content.
Background
This development is related to the News Media Bargaining Code to address bargaining power imbalances between the Australian news media businesses and digital platforms, including Google and Facebook.
Details
The ACCC released a draft code in July 2020 allowing news media businesses to bargain individually or collectively with companies such as Google and Facebook over the payment for the inclusion of news on their services.

The Australian government has said that the code will be applicable to Google and Facebook only, and other companies may be added in case they were found to hold a significant bargaining power imbalance with the Australian news media businesses.

This means that Google and Facebook would have to pay news websites whose links show up their platforms including Facebook News Feed, Instagram, Facebook News Tab, Google Search, Google News and Google Discover.

Facebook responded to the code becoming law by saying that the company would remove Australians' ability to post news content on its platforms.
Effects on Companies
If the code is implemented then Google will have to pay publishers of certain news media outlets so that their links show up as search results.

Google says that while it supports the idea that the financial future of publishers needs to be supported, the way the government is trying to achieve this goal would break the way Google search works.