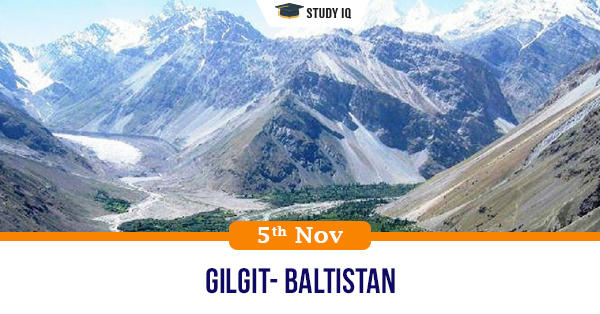 Gilgit- Baltistan
Date: 05 November 2020
Tags: Miscellaneous
Issue
Pakistani Prime Minister Imran Khan has announced that his government would give Gilgit-Baltistan provisional provincial status. When that happens, G-B will become the fifth province of Pakistan.
Background
Gilgit-Baltistan is the northernmost territory administered by Pakistan which provides the country's only territorial frontier and a land route with China.
Details
To G-B's west is Afghanistan, to its south is Pakistan-occupied Kashmir, and to the east J&K. The plan to grant G-B provincial status gathered speed over the last one year.

Though Pakistan links G-B's fate to that of Kashmir, its administrative arrangements are different from those in PoK.

While PoK has its own Constitution that sets out its powers and their limits vis-à-vis Pakistan, G-B has been ruled mostly by central executive.

While India has objected to the plan to make G-B a province of Pakistan and in the recent past asserted that it will take control of G-B, there is a realisation that it is impossible to change the map now.

The people of G-B have been demanding for years that it be made a part of Pakistan, they do not have the same constitutional rights Pakistanis have. A majority of the estimated 1.5 million G-B residents are Shias.
History of modern Gilgit-Baltistan
Gilgit had been leased to the British by Hari Singh in 1935. The British returned it in August 1947. Hari Singh sent his representative, Brigadier Ghansar Singh, as Governor, and Brown to take charge of the Gilgit Scouts.

A small force raised by the British to guard Gilgit, mutinied under the leadership of its commander, Major William Alexander Brown

But after taking protective custody of the Governor on November 1, Brown would raise the Pakistani flag at his headquarters. Later the Gilgit Scouts managed to bring Baltistan under their control.

Pakistan did not accept G-B's accession although it took administrative control of the territory. It hoped for a plebiscite similar to one it hoped to take place in Kashmir.