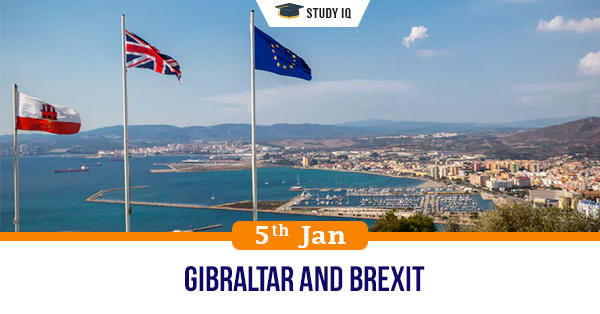 Gibraltar and Brexit
Date: 05 January 2021
Tags: Miscellaneous
Issue
Spain has announced that it has struck a deal with the UK to maintain free movement to and from Gibraltar, even after UK's departure from European Union.
Background
Gibraltar is a small portion of land on the southern tip of the Iberian peninsula that Britain controls but Spain claims as its own.
Details
Gibraltar will now be part of the Schengen zone and follow EU rules, thus ensuring that a hard border does not separate it from the rest of Europe. However, it will continue to remain a British Overseas Territory.

The Schengen passport-free zone includes 22 countries from the EU, and four others –Norway, Switzerland, Iceland, and Liechtenstein. The UK has never been a part of this zone.
Gibraltar
Gibraltar has an area of just 6.8 sq km and a population of around 34,000 people but has been the subject of intense dispute between Spain and Britain for centuries.

This is because of its strategic location near the opening of Mediterranean sea into the Atlantic ocean. It is a key location on the shortest sea route between Europe and Asia via the Suez Canal.

Gibraltar fell into British hands after a war in 1713, and has since remained with Britain despite several attempts by Spain to retake it.

Due to its strategic importance, Gibraltar came to be highly fortified by Britain since the 18th century, thus earning its commonly known name– "the Rock".

Even during World War II, Gibraltar's port was critically important for the Allies, and it continues to be a key base for NATO.

In two referendums, one in 1967 and the other in 2002, Gibraltarians overwhelmingly voted to remain a British territory.

Currently, the territory is self-governing in all aspects, except for defence and foreign policy, which are managed by London, and Gibraltarians have British citizenship.
Post-Brexit
The result of the 2016 Brexit referendum gave rise to the possibility of a hard border coming up between Gibraltar and the rest of Europe, despite 96 percent of the vote in Gibraltar being in favour of remaining in the EU.

Gibraltarians mainly voted 'Remain' because the territory's economy depends on an open border with Spain, which sends over 15,000 workers and 200 trucks daily.