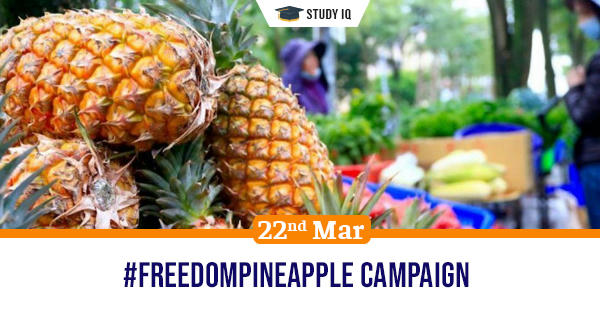 Freedom Pineapple campaign
Date: 22 March 2021
Tags: Miscellaneous
Issue
China had recently cancelled order from Taiwan citing risk of harmful creatures that could impact its own agriculture.
Background
Ties between China and Taiwan are already soured due to issues such as sovereignty, foreign relations and military build-up.
Details
Taiwan has refuted China's claim of pests in its pineapple and has said that the move is aimed at increasing political pressure on it.

China is Taiwan's biggest trade partner, regardless of the relation between the two countries. The trade is valued at $150.5 billion in 2018, up from $35 billion in 1999.

The move to ban Taiwanese pineapple could reduce the demand for the product on international market and impact its prices.

Taiwan last year exported 10% of the pineapple that it grows annually. Most of the exports were sourced by China.

Critics have blamed China of using its economic and trade powers to pressurise nations that have refused to agree to its opinion.

The ban on imports of Australian wine and beef were imposed by China after Australia demanded enquiry on origins of Coronavirus.
Pineapple challenge
Taiwanese President started a "pineapple challenge" on social media to attract more Taiwanese nationals to buy the fruit and counter China's move.

Taiwan's foreign minister also asked friendly friends around the globe to stand with #Taiwan & support #FreedomPineapple".

The campaign has received from countries such as US, UK and India. Japan has ordered a large consignment of pineapples.

The Taiwan government has said that it had received enough orders to cover losses that could arise due to China's ban.
Dispute between Taiwan and China
China considers Taiwan as a part of its territory under its One China policy. This is bizarre considering that Taiwan is a self-ruled and democratic country.

China has made attempts to insist that Taiwan should be called "Chinese Taipei", so as to prevent international recognition of Taiwan as a country.

After the Second World War, Taiwan was put under Chinese control. During Chinese, civil war, the members of Kuomintang party (KMT) were drive out by the communists and took shelter in Taiwan.

They established a Government in Exile and called themselves Republic of China. This government was considered the official government until the West recognised People's Republic of China.

Beijing has continuously tried to establish control over Taiwan and bring it under its territory. It has ensured that Taiwan does not get recognised as a country.