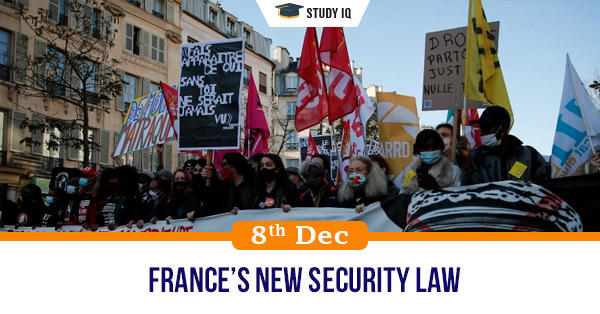 France's new security law
Date: 08 December 2020
Tags: Miscellaneous
Issue
Thousands of protesters gathered at demonstrations across France to protest a controversial new bill that would ban police images and increase surveillance.
Background
The legislation, which is pending in France's parliament, intends to protect police officers from online calls for violence.
Details
The new article would amend current legislation to make it an offence to show the face or identity of any officer on duty with the aim of damaging their physical or psychological integrity. The offence would carry a prison sentence of up to one year and a maximum fine of €45,000.

The bill has been strongly criticised by journalists and rights groups who argue that it would curtail press freedom and lead to less police accountability.

Those opposed to the legislation are concerned that, if it is enacted, it risks endangering journalists and other onlookers who film officers at work, especially during violent protests.

They say documenting and sharing the actions of violent officers is essential in stopping future incidents of police brutality.

Critics have highlighted that police brutality towards protestors increased drastically after the violent Gilet Jaunes (Yellow Vest) protests.

Civil libertarian groups and left wing parties have called the bill authoritarian and unnecessary. They say there are existing provisions to protect policemen.

Observers say that Macron has been trying to woo right-wing voters by bringing in such a law and encash public sentiments against radical Islamists.
Gilet Jaunes
The yellow vests movement or yellow jackets movement is a populist, grassroots protest movement for economic justice that began in France in October 2018.

The movement was initially motivated by rising fuel prices and a high cost of living; it claims that a disproportionate burden of the government's tax reforms were falling on the working and middle classes, especially in rural and peri-urban areas.

The protesters have called for lower fuel taxes, a reintroduction of the solidarity tax on wealth, a minimum-wage increase, the implementation of Citizens' initiative referendums, among other things.