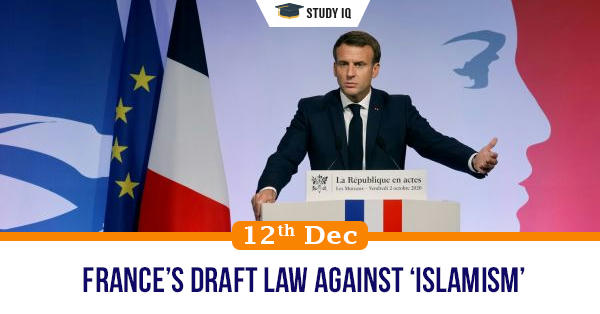 France's draft law against 'Islamism'
Date: 12 December 2020
Tags: Miscellaneous
Issue
The French government has unveiled a draft law to arm the country against 'Islamist Radicalism/Extremism'. The word 'Islamist' is not mentioned in the bill.
Background
The Bill comes on account of various attacks that took place in the country that has been a result of growing radicalism.
Details
The proposed legislation envisions to bring various measures, including reforms in school education to ensure Muslim children do not drop out. Homeschooling will be banned, except for medical reasons.

The local authorities will be given the power to temporarily shut down places of worship under public subsidies if they are found going against the rules of the French republic.

The draft law will also tackle online hate speech. There could be increased surveillance of the activities of all the French mosques.

Mosques will have to declare their foreign funding if it exceeds $12,000. This will help in preventing funding of religious centres.

The Bill would make it a crime punishable by fines and up to one year in prison for doctors who provide 'Virginity certificates', which is reportedly sometimes demanded ahead of Muslim marriage ceremonies.
Response to the bill
Turkish President Erdogan has called the bill an open provocation against the Muslims and demanded opposition to the bill.

Critics have said that the bill will further alienate French Muslims. There would be greater boycott against France in Muslim world. However, several Muslim leader of France have come in support of the bill.

As President Macron faces re-election bid, there is an increasing need for pleasing right-wing voters who have demanded actions against radical Islamists. This has forced him to take such an extreme step.