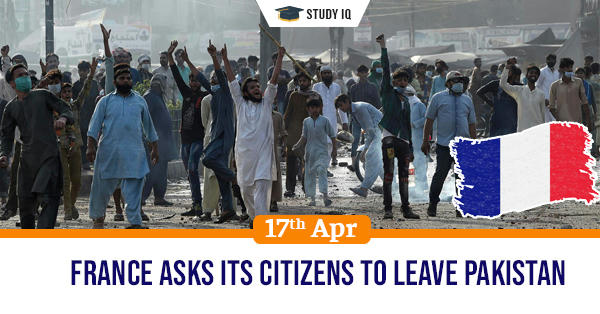 France asks its citizens to leave Pakistan
Date: 17 April 2021
Tags: Miscellaneous
Issue
The French embassy in Pakistan has asked its citizens residing in the country to leave temporarily owing to anti-French protests.
Background
From the last couple of days, Pakistan is experiencing an anti-France protest that has seen people threatening the French ambassador with death.
Details
Radical Islamic group The Tehreek-i-Labaik Pakistan (TLP) has been behind the protests. The move has been termed precautionary.

Anti-France sentiments have been growing in Pakistan since French President Emmanuel Macron had uprightly defended the publication of cartoons of Prophet Muhammad.

The TLP supporters have taken to the streets to put pressure on PM Imran Khan to expel the French ambassador from the country and ban French products.

The Pakistan government has arrested TLP leader Saad Rizvi and put a ban on the party to control the protests.

The arrest has further fuelled the protests and intensified it to the extent people are blocking major highways of the country.
TLP's protests
The TLP had led a similar protest last year that had harmed the reputation of the government immensely.

The party has resumed its protests after the government failed to honour its agreement of acting against the French government.