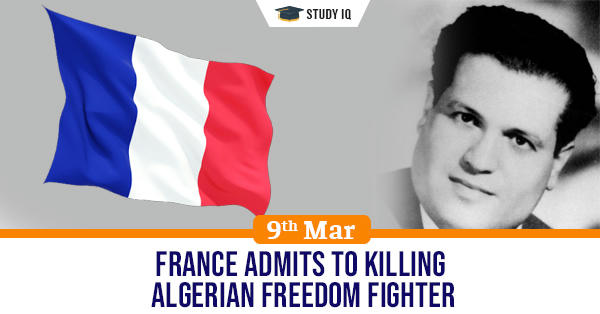 France admits to killing Algerian freedom fighter
Date: 09 March 2021
Tags: Miscellaneous
Issue
The French government has accepted that its soldiers were involved in torturing and killing of Algerian lawyer and freedom fighter Ali Boumendjel.
Background
The move is aimed at improving France's relations with Algeria, which was its former colony and gained independence in 1962.
Details
Ali Boumendjel was an Algerian nationalist and freedom activist when Algeria was under French colonial rule.

Boumendjel was a critique of French colonialism and acted as an intermediary between moderates and revolutionaries fighting for the country's independence.

French soldiers kidnapped him and placed him under detention during Battle of Algiers in 1957. He was later tortured and killed.

His body was thrown off from sixth floor to make his murder look like a suicide. The conflict lasted until 1962 when French exited the country.
Investigation
From the past several years, several groups in France and Algeria tries to discover the truth behind Boumendjel's death.

Head of French intelligence during the war had confessed to have ordered killing of many fighters including that of Boumendjel.
Significance
France's relationship with Algeria has undergone various complications. The reluctance in accepting the atrocities during the colonial time has put strain on bilateral relations with Algeria.

France has admitted that about 4 lakh Algerians were killed during the war time whereas independent agencies have assumed the number to go beyond 10 lakhs.

The acceptance of murder of Boumendjel is considered to be one step towards healing old wounds with Algeria.

However, many have criticised French government for refusing to issue an official apology for atrocities done during the war.