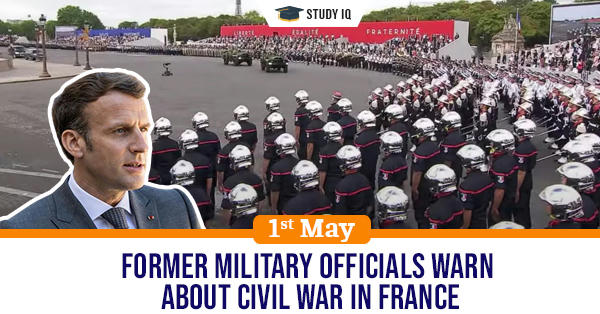 Former military officials warn about civil war in France
Date: 01 May 2021
Tags: Miscellaneous
Issue
Former military generals and service personnel have signed a letter addressed to President Macron of an impending civil war in the country.
Background
France has been undergoing internal turmoil from last couple of years owing to tensions created by Islamic fundamentalists.
Details
The military personnel have alleged that Islamists are taking over the country due to government's laxing policies.

They have also warned that military would have to intervene if France has to save its civilizational values.

The letter has been opposed by left-wing parties and the government but supported by right-wing politicians including Macron's future challenger Marine Le Pen.
The letter
The letter warns of deadly dangers to France in form of Islamists and banlieue hordes, which are poor suburbs near Paris that are home to poor immigrants.

There is an attempt to start a civil war by destroying statues of French Colonial figures and also attacks on aspects of French colonial history.

The letter also criticises the government of cracking down on yellow vest protestors by using police as proxy.