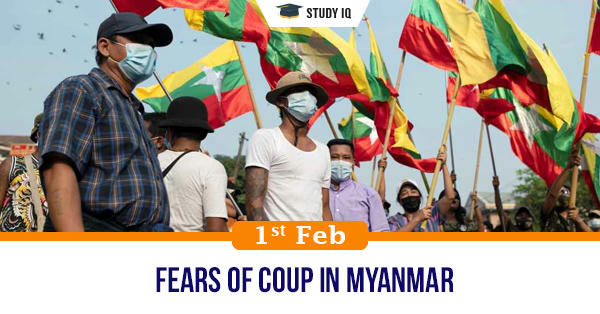 Fears of coup in Myanmar
Date: 01 February 2021
Tags: Miscellaneous
Issue
Fears of a military coup are plaguing Myanmar three days ahead of the scheduled opening of its newly elected Lower House of Parliament.
Background
The military says the November 2020 general election was full of irregularities and has maintained that the results are therefore not valid.
Details
The military has demanded that the United Elections Commission (UEC) of Myanmar which oversees elections to prove that the elections were free and fair.

It was the military that drafted the 2008 Constitution, and put it to a questionable referendum in April that year.

The Constitution was the military's "roadmap to democracy", which it had been forced to adopt under increasing pressure from the west.

Under its provisions, the military reserves for itself 25 percent of seats in both Houses of Parliament.
Allegations
The military says that they had found 8.6 million irregularities in 314 areas across all states and regions.

The UEC has said it had found no evidence of any voting malpractice or fraud. It said that the votes were counted transparently and witnessed by election candidates, election staff, the media, observers, and other civil society organizations.
Fears of coup
The army's assertion has prompted the United States embassy and diplomatic missions of 15 other countries and the European Union in Yangon to issue a joint statement opposing any attempt to alter the outcome of the elections.

The results of the 2020 election are being seen by the NLD as a mandate for its plan of constitutional reform. This will not be easy given the tight constitutional restrictions for amendments.