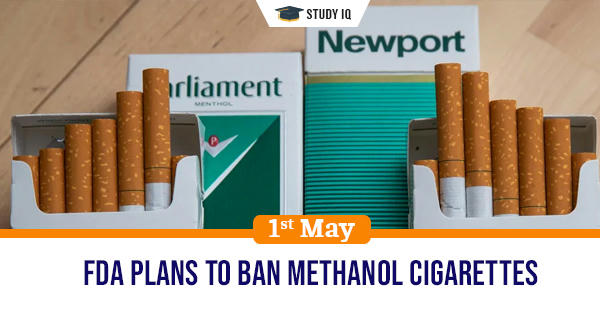 FDA plans to ban methanol cigarettes
Date: 01 May 2021
Tags: Miscellaneous
Issue
The US Food and Drug Administration (FDA) is planning to put a ban on methanol cigarettes and flavour additives in cigars.
Background
The decision is one of the major efforts by Biden administration to improve health of all Americans that are affected by additives such as methanol.
Details
Methanol is the only flavour that is allowed to be used in cigarettes according to the Tobacco Control Act (TCA), 2009.

But a section of experts believe that methanol flavour has increased addiction rates in young population, leading to tobacco-related deaths.

Studies have shown that methanol increases tobacco appeal towards youngsters and in future this will lead progression to regular tobacco cigarettes.

Methanol cigarettes are easy to be used without getting caught as they can avoid the unpleasant smell and flavour that tobacco emits.
Reasons for ban
The methanol cigarettes are marketed to appeal to black smokers. Currently, about 85 percent of methanol cigarette smokers are blacks while only 30 percent whites smoke them.

Previous studies on methanol cigarettes ban has shown that about 21 percent of people tried to quit smoking after methanol cigarettes were banned.
Criticism
Critics have pointed out that banning methanol cigarettes will not reduce smoking but rather create a black market for these products.

The penalties imposed for smoking methanol cigarettes will be disproportionate against black people as they will be the most impacted group.