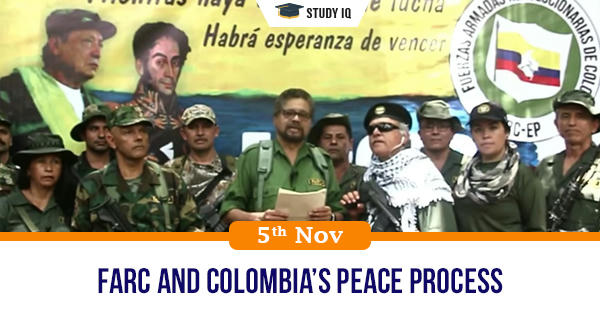 FARC and Colombia's peace process
Date: 05 November 2020
Tags: Miscellaneous
Issue
Hundreds of former FARC rebels took to the streets in capital Bogota, demanding an end to the violence against them.
Background
The ex-combatants have been calling for a faithful implementation of the 2016 peace deal, which is considered pivotal in bringing down overall levels of violence in Colombia.
Details
FARC
The Revolutionary Armed Forces of Colombia (FARC) was the largest guerrilla group operating in the Colombian conflict.

The group started in 1964 as the armed wing of the Colombian Communist Party, and fought with right-wing paramilitaries, crime cartels, and the Colombian government to maintain its influence throughout the Cold War-era conflict.

The FARC was considered a major threat to stability in Colombia, accused of carrying out bombings, assassinations, abductions, and sex crimes.

The group was also linked with Colombia's multi-billion dollar illegal drug trade, and is believed to have drawn in millions of dollars from contraband trafficking. The group received external support from leftist governments in Cuba and Venezuela.
Colombian peace agreement
After four years of negotiations, the government of former President Juan Manuel Santos signed a peace agreement with FARC in 2016.

Ex-militants were given protection by bringing in an amnesty law, and the group was assured political representation for two terms in Colombia's parliament, where it currently sits in the Opposition.

A further escalation in violence could destabilise Colombia's countryside and make the deal's implementation increasingly difficult.
Colombia
A country largely in the northern part of South America, with territories in North America. Colombia is bounded on the north by the Caribbean Sea, the northwest by Panama, the south by Ecuador and Peru, the east by Venezuela, the southeast by Brazil, and the west by the Pacific Ocean.

Colombia is one of the world's 17 megadiverse countries and has the second-highest level of biodiversity in the world.

Its territory encompasses Amazon rainforest, highlands, grasslands, and deserts, and it is the only country in South America with coastlines and islands along both the Atlantic and Pacific.

Colombia is considered a regional actor in international affairs, being the only NATO Global Partner in Latin America and a member of several major global and regional institutions, including the OECD, the UN, the World Trade Organization, the OAS, the Pacific Alliance, the Association of Caribbean States, an associate member of Mercosur and other international organizations.