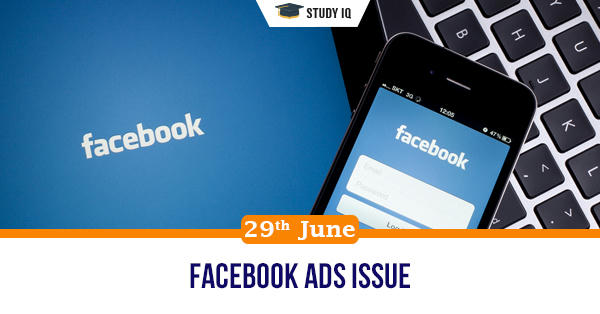 Facebook ads issue
Date: 29 June 2020
Tags: Miscellaneous
Issue
Amidst a growing pressure campaign led by some of the world's most prominent corporates to boycott advertising on Facebook, CEO Mark Zuckerberg announced that the social media platform was tightening its content moderation policies to better tackle hate speech and misinformation online.
Background
Facebook has been facing mounting pressure ever since the platform chose not to take down a controversial post shared by US President Donald Trump about the nationwide anti-racism protests.
Details
In the wake of nationwide anti-racism protests sparked by the custodial killing of unarmed African-American George Floyd in Minneapolis, a number of prominent civil rights groups in the United States came together to urge businesses to pull their ads from Facebook and Instagram. This movement came to be known as the 'Stop Hate for Profit' campaign.

The coalition - comprising Colour of Change, National Association for the Advancement of Colored People (NAACP), Sleeping Giants, Free Press, Anti-Defamation League (ADL), and Common Sense Media — accused Facebook of doing little to contain the spread of racist content online.

In the run-up to the 2020 US presidential election, the organisers of the campaign fear that a highly polarised audience on social media could increase the potential for spreading misinformation and discriminatory content.

The campaign gained significant steam with major brand names like US ice cream manufacturer Ben & Jerry's, movie distributor Magnolia Pictures, and outdoor apparel brand Northface joining the league of businesses boycotting ads on Facebook.

The campaign hopes that Facebook will respond by committing to changing its policies and creating a safe, non-discriminatory online experience for its millions of users.

With advertising forming the foundation of Facebook's annual revenue of roughly $70 billion, experts have said that the recent spate of companies withdrawing their ads from the platform could pose a significant threat to the business.

The ongoing ad boycott campaign is not the first instance of protest against the social media platform in the recent past. Several attempts have been made, including the #deletefacebook trend in early 2018, to challenge Facebook's handling of user data as well as its content regulation policies.