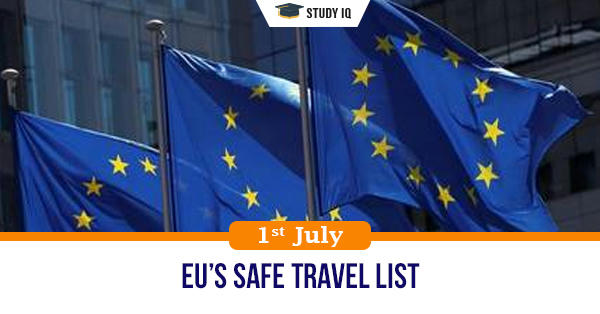 EU's safe travel list
Date: 01 July 2020
Tags: Miscellaneous
Issue
From July 1, residents from over 14 countries that are not part of the European Union (EU) and are deemed to be 'safe' will be allowed to enter the EU.
Background
The list excludes residents from the United States, Brazil and China. The US and Brazil have the first and second-highest number of coronavirus cases in the world right now.
Details
As of now, EU nationals are allowed to move within the bloc, British nationals, who will be treated as part of the EU till December 31, are also allowed to travel the EU.

The list of countries will be reviewed every 14 days and new countries may be added and some taken off the list, depending on the coronavirus statistics and how the countries manage the spread of the disease.

The EU member states and Schengen Associated countries have temporarily suspended non-essential travel from "third countries" to the EU plus area. Third countries are those that are not a member of the Union.

The Schengen area comprises 22 of the 27 member states of the EU plus four European Free Trade Association Countries, which are Iceland, Liechtenstein, Norway and Switzerland. EU member states of Bulgaria, Romania and Croatia, Cyprus and Ireland are not Schengen countries.

Apart from the 27 member states, there are five EU candidate countries, which include Turkey, Montenegro, Macedonia, Serbia and Albania.
European Union
The European Union (EU) is a political and economic union of 27 member states that are located primarily in Europe.

The EU has developed an internal single market through a standardized system of laws that apply in all member states in those matters, and only those matters, where members have agreed to act as one.

The European Union has grown from the six founding states (Belgium, France, West Germany, Italy, Luxembourg, and the Netherlands) to the current 27.

Austria, Cyprus, Estonia, Finland, Greece, Ireland, Latvia, Lithuania, Malta, Portugal, Slovakia, Slovenia, and Spain are other members.