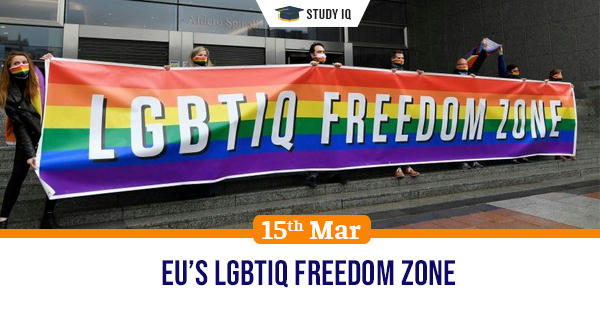 EU's LGBTIQ freedom zone
Date: 15 March 2021
Tags: Miscellaneous
Issue
European Parliament has declared that its member bloc as "LGBTIQ freedom Zone" as a symbolic gesture.
Background
This resolution was in response to Poland's move to develop more than 100 "LGBTIQ ideology-free zones" across the country.
Details
Majority of EU countries recognise same-sex relationship. Out of that, 16 countries legally recognise same-sex marriage. Poland does not acknowledge such relationships.

Poland also does not allow same-sex couples to adopt children. However, people adopt as single parents by using loopholes.

Under the new law, people found to be applying as a single parent while still being in a same-sex union will be criminally charged.

The law will also force local governments have to restrain from showing sympathy towards LGBTIQ people and withdraw financial assistance from groups promoting non-discrimination and equality.

Hungary is another country that has been pushing forward a conservative Catholic social agenda. The parliament also adopted a constitutional amendment to restrict the community's rights.
Significance
The declaration is the latest clash that has started between Poland and Hungary on one side and the rest of the EU on the other.

Both the countries were former communist states that are now run by conservative nationalist governments. They have been criticised for degrading democratic standards.
LGBTIQ
It is an initial that stands for lesbian, gay, bisexual, and transgender. LGB began to replace the term gay in reference to the broader LGBT community.